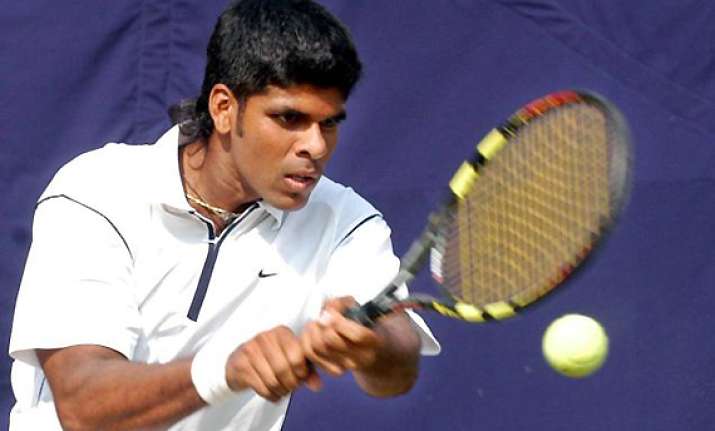 New Delhi, Jun 21: Vishnu Vardhan may have stepped into the big boots of Mahesh Bhupathi but the youngster said he is under no pressure and that the experience of playing alongside Sania Mirza in the 2010 Asiad will hold him in good stead when he partners Leander Paes in the upcoming Olympics.
"When I was asked to pair up with Sania during the Asian Games at Guangzhou in 2010, I was totally under pressure but I handled it well at that time. Now I know how to handle pressure," Vishnu told PTI.
AITA today worked out a compromise formula by agreeing to pair Bhupathi and Rohan Bopanna and teamed up Paes with Vishnu (world no 207) for the men's doubles event in London despite the 13-time Grand Slam winner's threat to pullout on being partnered with a low-ranked player.
But Vishnu said that he had no knowledge of what exactly Paes had communicated to All India Tennis Association and hence would not like to read too much into it.
"I don't know what exactly had happened or what was the e-mail all about. Probably I will get to know when I meet Leander," insisted the 19-year-old.
Vishnu said that he would not be overawed by Paes on the court as he shares a good relation with him.
"Though I haven't played in matches with him, I have practiced a lot with him during Davis Cup and trained with him innumerable times, so I share a good equation with him.
"We share a very good relationship with each other and he always tries to take out time to help me with my game. We are in constant touch."