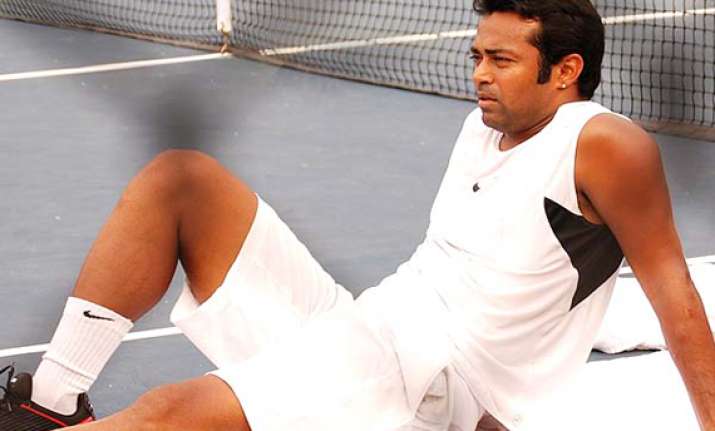 London, Jun 29 :
The selection row that has rocked Indian tennis is nothing more than "nonsense" that precedes every Olympics for veteran Leander Paes, who said despite being left disheartened he is focussed on playing "sport and not politics".
The 39-year-old had threatened to withdraw from the Olympics despite being India' number one doubles player after being paired with a much lower-ranked Vishnu Vardhan for the big event.
Paes' partners of choice—Mahesh Bhupathi and Rohan Bopanna—refused to combine with him and insisted on being sent as a team themselves.
If that was not enough, his mixed doubles partner for the Games—Sania Mirza—also took a potshot at Paes by claiming that she was used as a "bait" to pacify him.
The veteran said the controversy has been "disheartening" but he is focussed on the task at hand.
"I am here to play sport and not politics," Paes said after winning his Wimbledon first-round match in the men's doubles with regular Czech partner Radek Stepanek.
"Unfortunately, I see the games being played within games, and as much as that is very disheartening, I am looking forward to playing my sixth Olympics for my country as I have played for 22 years for the people and the flag.""
Paes, the world number seven doubles player, said he had no complaints about being paired with Vardhan, who is ranked 207 in the ATP list.
"I am looking forward to representing my country with the teams that the All India Tennis Association have selected," Paes said.
Asked about Sania's outburst, Paes refused any direct comment, saying, "Every Olympics has some nonsense coming in with it."