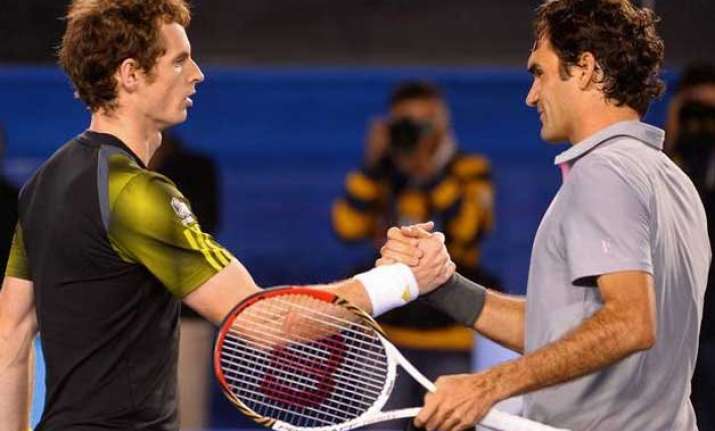 London: Roger Federer, Andy Murray, Novak Djokovic and Richard Gasquet advanced into Wimbledon semifinal after defeating their respective opponents on Wednesday.
Second seed Federer and third seed Murray advanced in quarterfinals slowed only by a pair of rain delays. Federer's 116-hold streak in service games, dating to his previous tournament, ended, but that was merely a blip during a 6-3, 7-5, 6-2 victory over No. 12 Gilles Simon of France.
Murray was hardly troubled at all by a weary Vasek Pospisil of Canada and won 6-4, 7-5, 6-4 in a match that finished with the retractable roof closed at Center Court, in front of an audience that included Prince William and his wife Kate.
Another past champion, No. 1 Novak Djokovic, also barely was tested, eliminating No. 9 Marin Cilic of Croatia 6-4, 6-4, 6-4 to improve to 13-0 against the 2014 U.S. Open winner.
Djokovic, who won Wimbledon in 2011 and 2014, plays No. 21 Richard Gasquet of France next. Gasquet emerged from the most compelling quarterfinal — featuring two beautiful one-handed backhands — with a 6-4, 4-6, 3-6, 6-4, 11-9 win over No. 4 Stan Wawrinka of Switzerland.
"It was great to watch them go backhand-to-backhand today," said Djokovic, who is 11-1 against Gasquet. "Some great points, great exchanges."
Until Gasquet dropped to his back at the baseline when French Open champion Wawrinka's last backhand sailed long, it appeared this might be the first Wimbledon semifinals in 20 years involving men seeded 1-4.
Gasquet truly is an interloper, the only remaining man without a major title. Never been to a final, even.
"I'm the worst," Gasquet said with a smirk, "when you see Federer, Djokovic and Murray and me."
He'll be in his third Grand Slam semifinal. Djokovic, in contrast, owns eight major championships and reached his 27th major semifinal, sixth in a row at Wimbledon.
"Obviously," Djokovic said, "the experience of being in these final stages of Wimbledon many times is going to help me."
Imagine how Federer feels.
He's into his 10th Wimbledon semifinal (he's 9-0) and 37th at all majors (25-11).
"I'm very proud of my achievements here, don't get me wrong," said Federer, who turns 34 on Aug. 8. "But it's not like something I walk around, beating my chest, saying, like, 'I'm great here.'"
Federer, runner-up to Djokovic last year, needed only 95 minutes to dispatch Simon. The most noteworthy moment came when Federer served for the second set at 5-4. Up to then, Federer had won all 67 games he'd served the past two weeks, following 49 in a row at a tuneup tournament in Halle, Germany.
Simon broke Federer at love, looked to the guest box and shook his right fist.
"Played a perfect game," Simon would say later.
Federer, meanwhile, was "relieved" to get broken, saying, "I guess we're not going to talk about that anymore."
Certainly didn't throw him off against Simon.
Federer broke right back, then served out the set this way in a game interrupted by rain after the first point: 125 mph ace, 115 mph service winner, 109 mph ace, 122 mph ace.
"I don't serve 140s, let's be honest," Federer said. "I have to work my way through those service games."
So far, so good. Now Murray will try to solve that serve.
(With inputs from AP)