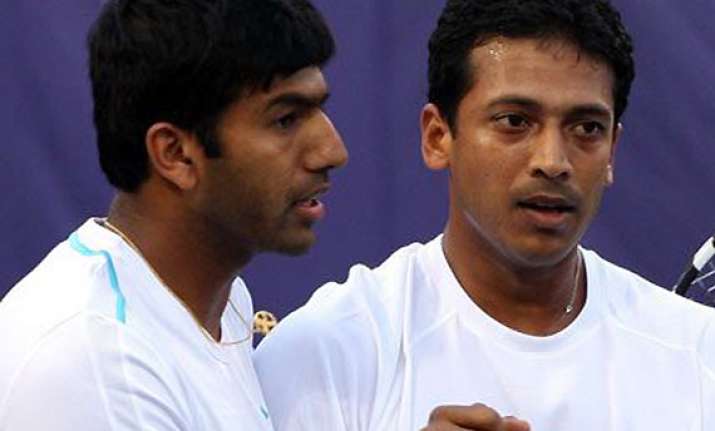 Chennai, Jan 5: The top seed Indian pair of Mahesh Bhupathi and Rohan Bopanna on Wednesday night survived a scare from the British-Belgian pair of Ken Skupski and Xavier Malisse to enter the quarterfinals of the Aircel Chennai Open 2012 here.

Bhupathi and Bopanna, a new pairing after Leander Paes and Bhupathi decided to part ways again after their brief reunion last year, battled back after losing the first set 5-7 to win the second set 6-3 and win the Match Tie-breaker 10-5.

The Indian pair took an 8-3 lead in the ten-point match tiebreaker before allowing Malisse and Skupski to notch up two points, before the Britisher's forehand return went long to give the match to Bhupathi and Bopanna. Malisse and Skupski have a doubles ranking of 26 and90 respectively.

After an initially tentative display, which included being broken in the first game, the pair grew in confidence as the match progressed.
Bhupathi later said his pairing with Bopanna was "not pretty but greedy".

Bopanna, for his part, said the struggle in the first set was down to "pretty much getting used to playing with each other".

"This was our first match of the season. We had a lose first game and were broken, which was not ideal".

Bhupathi said he had "put in a lot of hours in December" in the off-season ahead of the Chennai Open. Bhupathi and Bopanna, who have a doubles ranking of seven and 11 respectively, will meet the Swiss-German pair of Stanislas Wawrinka and Andreas Beck in the quarterfinals tomorrow.

The Indian pair looked very much a work in progress as the instinctive chemistry that seemed to characterise Bhupathi's pairing with Paes was missing. Bopanna regularly fired in aces that put the team in an advantageous position and usually followed up with a backhand return into the net, thereby frittering away the advantage.

Bhupathi showed that none of his reflexes have dimmed with the passage of the years, exhibiting some wonderfully placed backhand shots across the court and engaging in some stirring rallies at the net with Skupski.

While Bhupathi and Bopanna broke their opponents in game 10 of the first set and game eight of the second, Malisse and Skupski broke Bhupathi and Bopanna in games one and 11 in the first set.