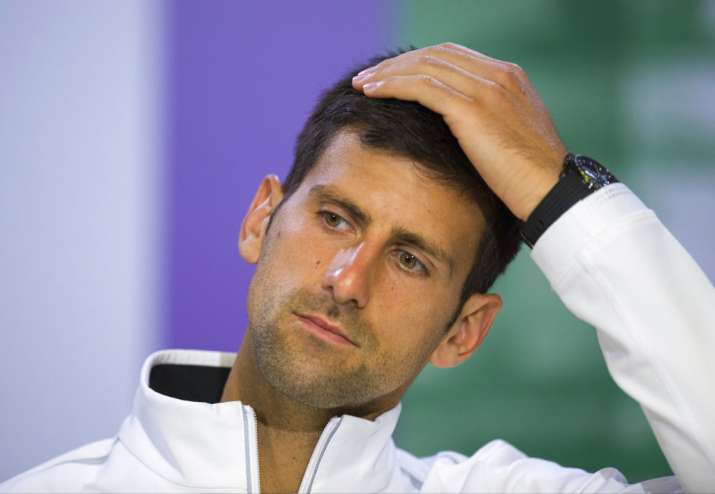 More sad news for Novak Djokovic fans as the former world number one has pulled out of next week's Qatar Open, casting doubt on his participation in the first Grand Slam of the year - Australian Open which starts on January 15. Qatar is the second tournament Djokovic has pulled out in as many days due to a niggling elbow injury. The 12-time Grand Slam champion was top seed in Doha, but in a statement, he said he would not be able to defend the title he won by beating Andy Murray last year
Earlier, it was reported that Djokovic's comeback was stalled on when a recurrence of pain in his right elbow forced him to withdraw from an exhibition tournament in the United Arab Emirates. Djokovic hasn't played competitively since he retired in the Wimbledon quarterfinals because of the elbow injury. He was scheduled on Friday to play Roberto Bautista Agut of Spain in the exhibition semifinals, his first match in nearly five months.
"I am terribly disappointed that I am forced to withdraw," Djokovic said in a statement on his website.
"Unfortunately, in the past few days I started to feel pain in the elbow and after several tests, my medical team has advised me not to risk anything, to withdraw from the tournament and to immediately continue with the therapies.
"This might affect the start of the season and the tournament plan, but the decision will be made in the following days."
Djokovic is entered in the Qatar Open starting on Monday in Doha, where he's the defending two-time champion. That's his lead-in tournament for the Australian Open, which starts in just over two weeks.
Exhibition tournament organizers have arranged a substitute match between Andy Murray, another former No. 1 who has been out since Wimbledon with a hip injury, and Bautista Agut.
Murray has been in Abu Dhabi only to train for the tour.
Bautista Agut will take on the winner of the other semifinal between Dominic Thiem of Austria and Kevin Anderson of South Africa.