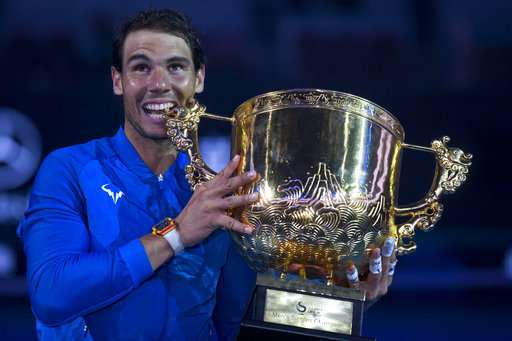 Rafael Nadal beat Nick Kyrgios of Australia 6-2, 6-1 Sunday in the China Open final to win his sixth ATP title of the year. Top-ranked Nadal, who was tied with Roger Federer and Alexander Zverev at five titles this season, picked up his 75th career singles trophy with the win in Beijing.
The 31-year-old Nadal's six trophies this year include a record 10th title at the French Open and a third at the U.S. Open. The last time the Spaniard won at least six titles in a year was in 2013 when he captured 10 trophies for the season.
Kyrgios started Sunday struggling with his serve and never found a confident range throughout the match. His first-serve percentage mostly languished under the 50 percent mark.
In contrast, Nadal always looked in charge and saved all four break points he faced.
Kyrgios offered Nadal eight break points in the first set with Nadal taking two service breaks.
Kyrgios didn't make it onto the board in the second set until he was serving with Nadal already leading 5-0.
The last time Kyrgios played a No. 1 it was also against Nadal. In that 2014 Wimbledon fourth-round encounter, the then 144th-ranked Kyrgios emerged a four-set winner.
This was Nadal's second China Open title in four trips to the final. He won his first in his Beijing debut in 2005.
Nadal leads Kyrgios 3-2 in career meetings, and 2-1 this season.
(With AP Inputs)