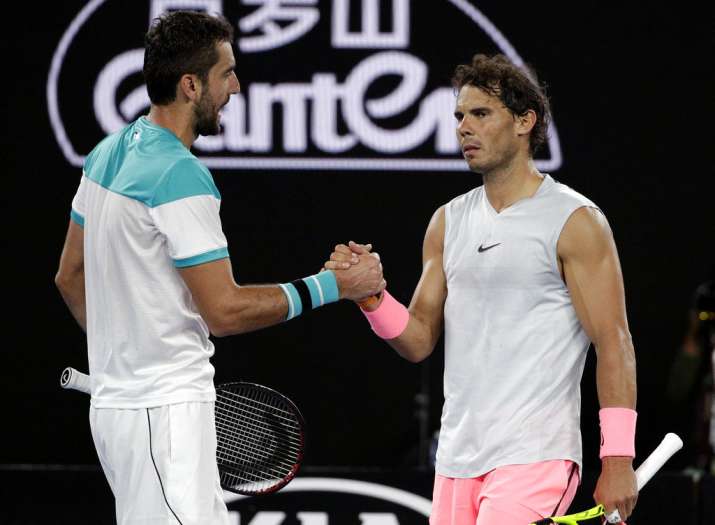 An injured and visibly struggling Rafael Nadal retired while trailing in the fifth set of his Australian Open quarterfinal match against Marin Cilic. Top-ranked Nadal fended off five break points in the last game before Cilic broke his serve, then the 16-time major winner went to shake hands with the umpire and his opponent and angrily hurled his headband into his equipment bag. No. 6-seeded Cilic advanced to his first semifinal in Australia since 2010 with a score of 3-6, 6-3, 6-7 (5), 6-2, 2-0, retired.
Cilic, the 2014 U.S. Open champion, will next play No. 49-ranked Kyle Edmund, who beat No. 3-ranked Grigor Dimitrov 6-4, 3-6, 6-3, 6-4 to reach a Grand Slam semifinal for the first time.
Nadal limped into a news conference about a half-hour later, still wincing when he stepped up onto a platform. He said he felt muscle pain in his upper right leg in the third set but played through it. In the fourth set, chasing a drop shot, he felt the pain get worse "but didn't realize how bad."
"Tough moments —not (for) the first time here," he said. "I'm a positive person, but today is an opportunity lost to be in a semifinal for a Grand Slam and fight for an important title for me. It's really tough to accept."
Nadal said he'd have medical scans Wednesday to determine the exact location and extent of the injury, which he could only describe as being high on his right leg but not in the hip.
"Unbelievable performance from both of us and really unfortunate for Rafa," Cilic said. "He's such an unbelievable competitor. He always gives his best ... it's very unfortunate for him to finish this way."
It was only the second time Nadal had retired during a Grand Slam match — the last time was also an Australian Open quarterfinal, in 2010 against Andy Murray.
On Tuesday night, he needed a medical timeout after going down 4-1 in the fourth set for treatment on his leg.
Nadal returned but was clearly bothered by the injury, limping and taking as much time as possible as he tried to stretch between points.
He called the trainer again after losing the fourth set, and lasted only two further games.
Cilic had only previously beaten Nadal once in their six previous matches — in their first match at Beijing in 2009.
Nadal had a delayed start to the season because of an injured right knee but appeared to be in good form through the first four rounds. He now hasn't won back-to-back Australian Open quarterfinals since 2008 and '09, the year he won his only Australian title.
"I worked hard to be here," said Nadal, who skipped tournaments in Abu Dhabi and Brisbane, Australia, while his knee recovered at the start of the season. "We did all the things that we believed were the right things to do."
His absence also means there's only one of last year's singles finalists remaining in the tournament. Roger Federer, who beat Nadal in five sets last year, is playing Tomas Berdych in a quarterfinal on Wednesday.
Serena Williams didn't defend her title, deciding she hadn't had enough time to prepare following the birth of her first child last September. Her older sister, Venus Williams, was beaten in the first round.
On top of that, six-time champion Novak Djokovic was upset in the fourth round.
(With AP Inputs)