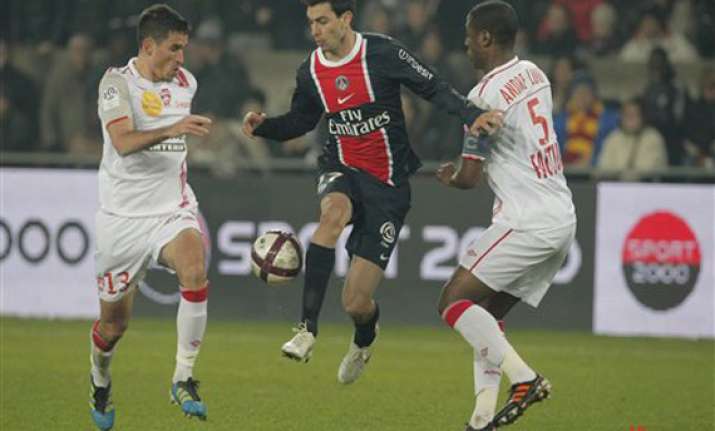 Paris, Nov 25: Argentina playmaker Javier Pastore will be looking to overcome a poor run of form when leader Paris Saint-Germain visits bitter rival Marseille in the French league on Sunday.

Marseille won the league title in 2010 while PSG finished 13th, but the positions have since been reversed with PSG top of the standings on goal difference and Marseille 12 points off the pace in the middle of the standings.

"We must absolutely win if we want to retain the top spot," Pastore told French daily Le Parisien. "I want to be a champion this season with PSG and then play the Champions League."

Pastore was signed from Palermo in the offseason for a French-record fee of ¤42 million ($60 million) as part of a player overhaul after wealthy Qatari backers took over the club.

Pastore has played a key role in PSG's rise to the top, scoring five times and setting up two goals in his first seven league matches.
"I was the first person surprised by how quickly I had adapted," Pastore said. "I didn't think I would score so many goals within such a short time. I needed three to four months to adjust in Italy."

His form has dipped lately, scoring only one goal in his last five league matches, and he blames that on long trips to South America to join up with the Argentina squad. But he's aware an outstanding performance at Marseille would endear him to the fans.

"It's a match that people apparently follow with a lot of passion," Pastore said. "On the day of my signing, fans were already mentioning that match to me. They talked about Marseille, telling me to absolutely win this match."

The rivalry dates back to the end of the 1980s when both clubs were fighting for the league title."I love those matches," Pastore said. "I give the best of me in that kind of atmosphere. Those are matches in which I want to give a bit more. If we had played Marseille last Sunday instead of Nancy, I don't think I would have performed that poorly."

PSG's 12-game unbeaten run in the league ended with a 1-0 loss to Nancy last weekend. Despite increasing pressure from club president Nasser Al-Khelaifi, PSG sporting director Leonardo says he is still backing coach Antoine Kombouare.

"Antoine is the coach," Leonardo said. "He'll remain the coach even if we lose at Marseille."Marseille is under even greater pressure after losing 1-0 at Montpellier last week in the league and going down by the same score to Olympiakos on Wednesday to miss an opportunity to qualify for the knockout phase of the Champions League.

"It's forbidden to lose three straight matches," Marseille winger Andre Ayew said. "The only option is to win on Sunday. It's a tough moment, but in the past we've managed to bounce back."

Marseille announced Thursday that Andre-Pierre Gignac has been dropped from the squad to face PSG. A club statement said he reacted inappropriately when the team for the Olympiakos game was announced by coach Didier Deschamps.

Gignac, a ¤16.5 million ($22 million) signing in 2010, was named on the substitutes' bench and came on in the second half against the Greek side.The odds are against Marseille on Sunday having lost all its matches this season against the higher-placed teams—Lille, Rennes, Lyon and Montpellier—and with PSG undefeated on the road this season in the league.

Marseille's four league wins have come against promoted sides Ajaccio, Evian and Dijon and a team in the relegation zone, Nice.Montpellier is level on points with PSG and will visit mid-standings Sochaux on Saturday.

"We hope to snatch a European spot," Montpellier striker Olivier Giroud said. "We will try to stay the course until the winter break. We can feel that there's less fluency in our game, which means that we are getting tired. But we will try to keep racking up points."

Montpellier is on a six-game unbeaten run and has won four of its last six league matches. Sochaux finished fifth last season, but has been very inconsistent this term under new coach Mecha Bazdarevic.

Sochaux has one of the most porous defenses in the league, conceding 27 goals in 14 matches. Only promoted Ajaccio and Dijon have leaked more.Also on Saturday, it's: Bordeaux vs. Caen; Nancy vs. Dijon; Rennes vs. Evian; Saint-Etienne vs. Ajaccio; Toulouse vs.
Valenciennes; and Lille vs. Brest.On Sunday, Auxerre hosts Lyon and Lorient faces Nice.