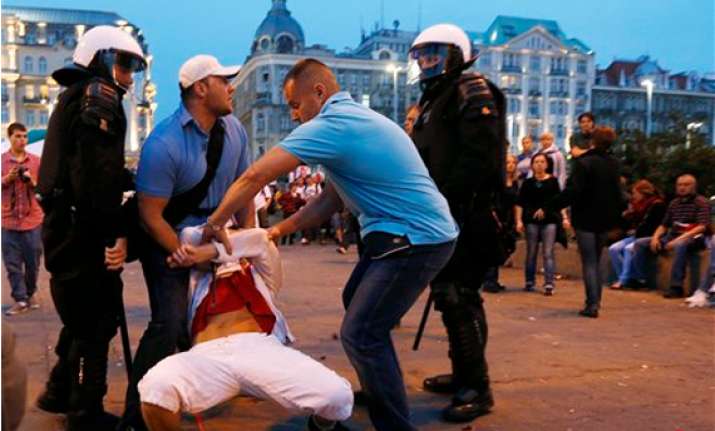 Poland, Jun13: Fourteen soccer hooligans have been convicted in fast-track trials for their role in violent clashes when Poland and Russia faced off in an emotionally charged European Championship match earlier this week, a court official said Thursday.
The trials in connection with Tuesday's disturbances are meant to show that Poland is serious about its policy of zero tolerance for violence as it co-hosts Euro 2012.
Such fast-track trials, however, are not unique to Poland. They have become common practices at World Cups and other big international sporting events. In preparation for the tournament, Poland changed parts of its criminal code to make the quicker trials possible.
Seven Poles were convicted Wednesday and seven others Thursday, Warsaw district court spokesman Wojciech Malek said. They were found guilty of assaulting police officers and "taking part in illegal gatherings." He explained that street gatherings are considered illegal when participants join them with an obvious intent to be violent.
Sentences range from 12 months to three years, but many of them are suspended sentences, said Mikolaj Piotrowski, a spokesman for Poland's Euro 2012 organizers. Sports Minister Joanna Mucha said she believed the punishments should be harsher, but noted that the government has no influence over the justice system.
Courts plan further fast-track trials for dozens more in the coming days. Police detained 184 people for taking part in the clashes. Some broke out before the match when thousands of Russian soccer fans marched to the National Stadium waving national flags and chanting "Russia, Russia." The mass expression of Russian patriotism in Warsaw's capital was provocative to Poles, who still deeply resent Moscow's imposition of communism here during the Cold War.
Many Poles felt authorities shouldn't have allowed the Russians to march as a group in Warsaw given the historical wounds, and some of the fighting was sparked by Polish hooligans who attacked Russians.
Separately, a group of young Poles also attacked police during the match with bottles, prompting officers to respond with rubber bullets and tear gas. Three dozen people were injured in the violence -- 19 civilians and 17 police officers.
Police detained 156 Poles, 25 Russians, a Spaniard, a Hungarian and an Algerian for the fighting around Tuesday's emotionally charged game between Poland and Russia, which ended in a 1-1 tie. On Wednesday, Poland's interior minister said the Russians would face trials aimed at expelling them from the country and lifting their European Union visas for five years.
There was no violence at the stadium or in the downtown fan zone.