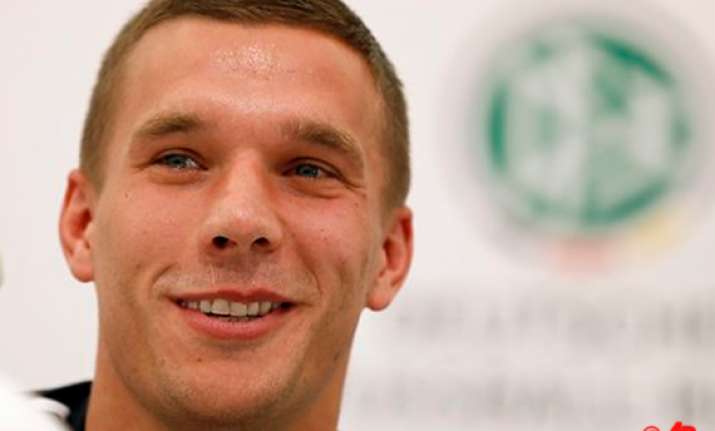 Poland, Jun 16:  Lukas Podolski will play his 100th game for Germany against Denmark on Sunday.
His sights, however, are set on another milestone—equaling Franz Beckenbauer's 103 appearances during the European Championship.
That would also mean reaching the final of the tournament.
"The goal this summer is not the 100, but the 103 and I am optimistic that it will happen," Podolski said Friday.
Germany needs only a draw against Denmark in Lviv, Ukraine, on Sunday to win Group B and make sure of staying in Gdansk, its base for the tournament, for the quarterfinals.
The Germans have looked perhaps the most impressive team of the tournament so far, but they will bear in mind a defeat by their northern neighbors in the final of Euro 92.
Denmark has already produced a major upset at this tournament, beating the Netherlands 1-0 in their first match. But it then lost to Portugal 3-2 and must now seek something against Germany to advance.
Germany has won both its matches, edging Portugal 1-0 and the Netherlands 2-1.
"You would think that with two wins, you are through, but that's not the case," Podolski said.
Germany has not won a major tournament since its third European Championship title in 1996. This gifted generation is eager to finally lift one after finishing third in the past two World Cups and losing the Euro 2008 final to Spain.
"The only thing we are missing is a title to crown our development over the last few years and we want to show here that we can win titles," the Arsenal-bound Podolski said.
Podolski was born in Poland and would like to see his native land reach the quarterfinals, where it could play against Germany.
"That would unfortunately be the end of the road (for Poland)," said Podolski, who scored twice against Poland at Euro 2008.
Podolski turned 27 on the day Germany arrived in Gdansk, on June 4, and was warmly received when the team conducted an open training session before 10,000 people.
He made his debut for Germany in 2004 and has scored 43 goals in 99 games. Although nominally a forward, he has been playing on the left flank at Euro 2012 since coach Joachim Loew uses only one central striker.
The lack of a goal has prompted some criticism but Podolski said he was asked to perform more defensive duties in the first two games and feels that he has accomplished his job well.
While Podolski will clearly keep his place on Sunday, Germany will be without suspended right back Jerome Boateng.
Denmark winger Dennis Rommedahl and central midfielder Niki Zimling were both injured against Portugal. Rommedahl is almost certainly out of the Germany match with a left hamstring injury. Zimling, with a left calf injury, is also in doubt.
Rommedahl would most likely be replaced by Tobias Mikkelsen and Zimling by Jakob Poulsen.
"The Germans have, just like we do, a really strong team," Denmark striker Nicklas Bendtner said. "They work for each other and they have a couple of players who can decide games, and serve up some good balls to the strikers.
"They also have the discipline required in the defense, and that's why it's a more difficult squad to play against than the two other teams."
However, Bendtner made it clear that Denmark would not be an easy side to beat, and could even pull off an upset.
"We don't give up. We always give 100 percent," he said. "And if everyone plays at their best, we can come out victorious."
Denmark coach Morten Olsen said his team's problem was that few of his players play at a high level on a daily basis.
"We are facing players from Bayern Munich, (Borussia) Dortmund and Real Madrid," Olsen said. "They are Champions League clubs, all of them. It's a totally different level. We need to get up to that pace."