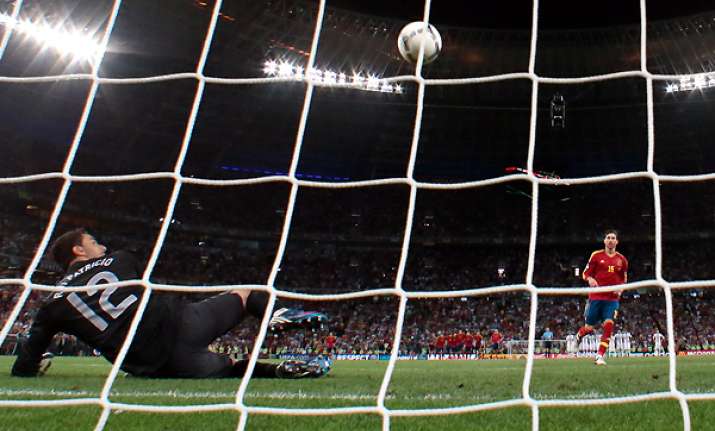 Donetsk (Ukraine), Jun 28: "Panenka" penalties seem to be in fashion at the European Championship.
Spain center back Sergio Ramos used the audacious soft chip on Wednesday to help the defending champions beat Portugal in their semifinal penalty shootout at Donbass Arena.
The technique is named after its pioneer, Antonin Panenka, who used it to win the 1976 European Championship for Czechoslovakia against West Germany in a penalty shootout.
Ramos' spot kick came just three days after Andrea Pirlo scored with a similar "Panenka" chip to the center of goal in Italy's quarterfinal shootout victory over England.
"They are very fashionable right now," Spain coach Vicente del Bosque said.
Ramos, whose previous penalty before Wednesday was a glaring miss for Real Madrid against Bayern Munich in the Champions League semifinals, will never forget it.
"I like that I was able to score from something that will be remembered," Ramos said. "It's the last thing that a goalkeeper would expect. You have to be confident to take it and in the run-up I saw the keeper nearly certain to dive one way, and fortune followed."
There have been other famous "Panenkas" through the years, like Zinedine Zidane's extravagant chip past Italy goalkeeper Gianluigi Buffon in the 2006 World Cup final, which France eventually lost on penalties.
Spain is the only team apart from West Germany to return to the final as holders, and Ramos' chip certainly put the world champions in control of the shootout.
With Spain 3-2 ahead after Ramos' penalty, Portugal defender Bruno Alves hit his penalty off the crossbar. Cesc Fabregas then converted his kick to give Spain a spot in the final in Kiev on Sunday against either Italy or Germany.
"I can't prove it, but these are things that can have an influence on the opponent," Portugal coach Paulo Bento said through a translator.
It was redemption for Ramos, whose miss in April left Bastian Schweinsteiger to win it 3-1 and put Bayern Munich into the Champions League final.
Ramos said that moment went through his mind beforehand and provided added motivation.
"When you can rebound from criticism, that's when you are strongest," Ramos said. "(The coach) trusted in me, he knew I was capable of scoring. He's been coaching for a lot years now and he knows I'm a little crazy."
Ramos has always been one for fashion — he cut his trademark mane before the start of the tournament. Even arriving for the post-match news conference to talk about his expressive goal was no different.
"Sorry I was late," Ramos said, "I wanted to clean up a bit."