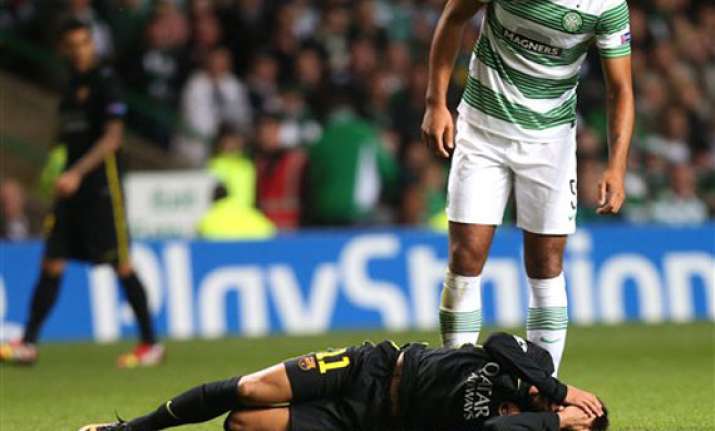 Glasgow, Scotland: Surrounded by stewards and facing the wrath of a three-deep line of seething home fans, Neymar was being escorted out of Celtic Park just as Neil Lennon launched his criticism of the Barcelona winger.
"I don't think Neymar does himself any favors by the way he behaves at times," the Celtic manager said. "Our supporters are very respectful of great players. (Barcelona playmaker Andres) Iniesta walks off tonight to a standing ovation from the Celtic support. While Neymar, he gets booed every time he touches the ball."   
As Lennon spoke -- calmly, despite his anger inside -- at a post-match news conference, his words were quickly drowned out as the jeers of Celtic supporters toward Neymar grew louder and louder.   
The Brazil international was one of the central figures in a game-changing incident in the 59th minute of Barcelona's 1-0 win over Celtic in the Champions League on Tuesday.   
With the game poised at 0-0, Neymar was tugged back and then bundled over by Celtic captain Scott Brown as Barca launched a quick counter-attack. Brown then went further by flailing his boot at the arm of Neymar, who fell and rolled around on the ground in apparent agony and holding his back.   
Brown was shown a straight red card, much to the dismay of most of the 60,000 fans crammed into Celtic Park, Celtic's players and to Lennon on the touchline.   
"Neymar has a reputation in the game," Lennon said. "Sometimes he exaggerates things a little bit."   
Worse still for Celtic, Neymar played a part a hand in the winning goal 16 minutes later, sending Alexis Sanchez through down the right before the Chile winger crossed for Cesc Fabregas to head home.   
Neymar was roundly booed each time he received the ball after the red-card incident and was the target of even more abuse as he exited the stadium.   
Barcelona coach Gerardo Martino said he didn't see the incident but agreed on one thing -- it turned the match.   
"Certainly playing against a team like Barcelona, playing 35 minutes with only 10 men is something to have in mind when analyzing the game," Martino said.   
Neymar's dribbling ability and ball skills were on full show against Celtic. With his first touch, he skinned marker Mikael Lustig with ease with less than a minute gone. But he got little change out of a packed and physical Celtic defense until the last half hour, when spaces opened up in Brown's absence.   
Neymar was shouldering much of Barca's attacking burden in the absence of the injured Lionel Messi, and Martino was happy with Neymar's display in the winger's first away match in the Champions League.   
"It's true he adds offensive and defensive quality to the team, and not only today but he has proved that before as well," Martino said.   
"We obviously prefer to play with Messi, of course, but when he is not available, Messi's absence cannot be an excuse at all. We have excellent players who can provide good football for us."   
Lennon was naturally far less praiseworthy of Neymar. Call it a clash of cultures -- a tough-tackling central midfielder, Lennon was a very different style of player to Neymar.   
"It's a physical game," Lennon said, adding: "I don't think I need to apologize to Neymar, I don't think I need to justify my defending of my captain and I think the sending-off was uncalled for and unnecessary."