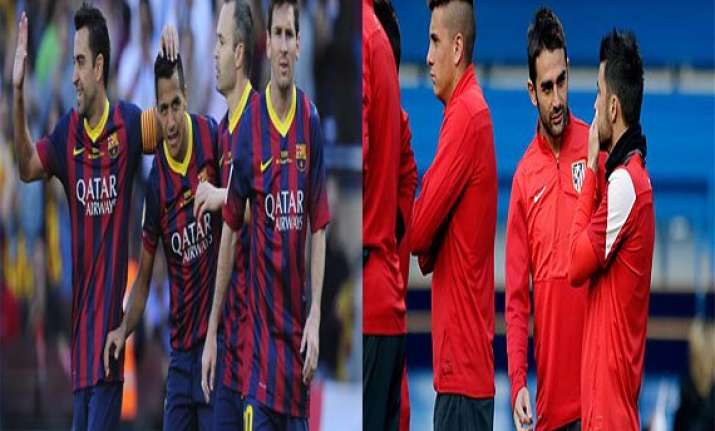 MADRID : The Spanish league title race now looks like a two-way fight, with Atletico Madrid and Barcelona heading for a championship showdown in the last round if they both win this weekend.
Real Madrid's 1-1 draw at Real Valladolid on Wednesday improved Atletico's chances of winning its first league title since 1996, although it will probably have to hold off Barcelona at Camp Nou in the last round. However, Atletico could be crowned champion with a victory against Malaga on Sunday if Barcelona fails to win at Elche.   
Madrid's untimely draw gifted Barcelona the chance to win its fifth title in six seasons despite the defending champions recent stumbles through the closing stages of a turbulent season.   
With two matches remaining, Atletico has 88 points, Barcelona 85, and Madrid 84.   
Barcelona hosts Atletico on the final match day, and would defend its title if it wins the last two games.   
Here are five things to know about the 37th round of matches: 
   BARCELONA IN THE HUNT
   Barcelona has been the big winner in Atletico and Real's recent slip-ups, having written off its title defense two weeks ago. But now there is suddenly renewed hope that the team can avoid a first season without a major trophy since 2007.
   "I never thought these results would happen," Barcelona forward Pedro Rodriguez said. "The league has given us a second chance. We've got to go for it." 
   INJURY WOES
   Madrid must decide whether it will continue fighting for the league title despite slim chances of winning, or focus on getting the squad healthy for the Champions League final on May 24.
   Forwards Cristiano Ronaldo and Angel Di Maria and defender Pepe all came away with injury problems from the draw at Valladolid, while Gareth Bale missed the match completely along with defenders Dani Carvajal and Raphaele Varane.
   "We'll know soon. I don't think Cristiano Ronaldo has a major problem," Madrid coach Carlo Ancelotti said ahead of Sunday's game at Celta Vigo. "Pepe finished the game and we'll see. I don't think Di Maria is a big worry."
   SLEEPING LIKE A BABY
   Atletico coach Diego Simeone is not losing any sleep over his team's title challenge.
   Atletico returns to its Vicente Calderon Stadium for the final time this season, hopeful it can clinch the championship on home turf against Malaga.
   Atletico has to recover from a demoralizing 2-0 loss at Levante, which came days after its rousing victory over Chelsea to reach the Champions League final. Unlike Madrid, Atletico doesn't have the option of resting players with the Lisbon final in mind, knowing every point can be decisive.
   The Argentine coach is enjoying the unexpected position Atletico finds itself in.
   "I sleep well because this is my passion and I'm in the place where I want to be, coaching the team I want to," Simeone said. "I can't complain." 
   CELTA'S PRIZED COACH
   Celta Vigo doesn't expect to be losing coach Luis Enrique just yet.
   Enrique met with Barcelona sporting director Andoni Zubizarreta earlier this week, fueling speculation the former Barcelona player would be replacing Gerardo Martino next season.
   Despite the very public interest, Celta will not let the former Roma coach go without a fight.
   "That meeting doesn't really seem too bad to us," Celta vice president Ricardo Barrios said. "There's no plan B, our plan A is Luis Enrique will be our coach because he still has one more year to go on his contract." 
   RELEGATION IN SIGHT
   With last-place Real Betis already relegated, two more teams are facing the drop.
   Six teams are within five points of each other, with Osasuna and Getafe currently in those final two drop spots.
   Valladolid looks to follow up its Madrid result at Betis, while Almeria and Granada's game could leave one of the clubs in trouble as they flirt with the drop.