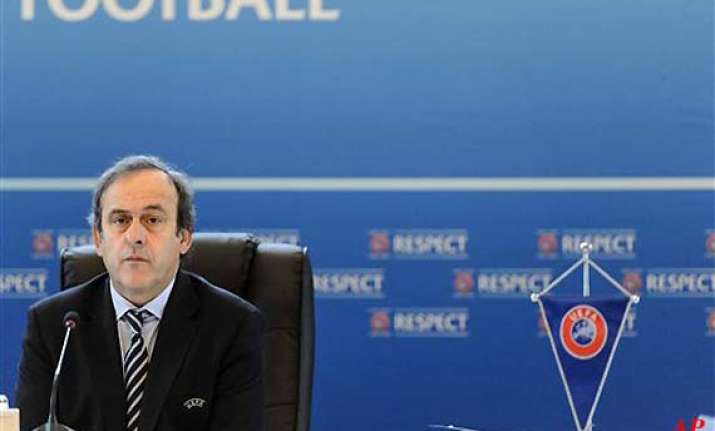 Lausanne, Switzerland, Dec 7: The 2020 European Championship will be played in several countries, UEFA decided on Thursday.
UEFA general secretary Gianni Infantino said the tournament will be a "Euro for Europe" -- fulfilling the wish of its president Michel Platini, who floated the idea in June.
The choice of exactly how many cities and countries will host the 24-team, 51-match tournament is scheduled for the spring of 2014.
"The only thing that is decided is that the concept is changing. This leaves the door open to all countries," Infantino said, adding that 52 of UEFA's 53 national members gave support in recent consultations.
UEFA's executive committee committed to the project despite opposition from Platini's most senior vice president, Senes Erzik of Turkey, which wanted to host the tournament alone.
Platini said he was "really passionate" about the plan during Euro 2012, after seeing how co-hosts Poland and Ukraine had been stretched to finance and complete stadiums, airports and infrastructure for just 16 teams.
Though Platini's home country France will host an expanded 24-team tournament in 2016 alone -- having edged Turkey in a final vote -- UEFA believes the demands are too much for one or two hosts during a prolonged economic downturn.
"The economic situation is such that you can't expect countries to invest in sporting facilities that such an event requires," Infantino said.  
"The fact that the Euro moves from 16 to 24 teams bears an additional burden on a country to host the event."
Infantino suggested that the tournament could allow fans in "10, 12, 15" countries to cheer their teams in matches played at home.
The detailed task of suggesting a format and logistics for the month-long tournament will be studied by UEFA's national team competitions panel.
Infantino hinted that smaller countries which have never hosted a Euro, World Cup or Champions League final could be encouraged in a year-long bidding process, which will be launched in January or March.
Countries such as Hungary, Cyprus or Estonia could be given "an impetus to build such a national stadium" housing around 40,000 fans.
"We hope we can boost national team football with this decision," Infantino said.
Still, major European powers such as England, France, Germany, Italy and Spain will expect to be included.
Easing travel times and costs for fans is another Platini priority, and UEFA could look to create regional hubs to stage matches, Infantino said.
UEFA insists the multinational hosting plan is a one-off for Euro 2020, and that the 2024 host will be chosen in a traditional bidding contest.