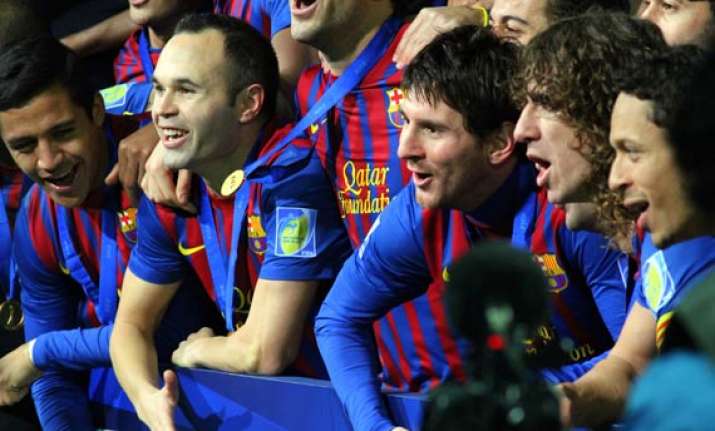 Madrid: FC Barcelona face perhaps the most decisive week of their season after being knocked out of the quarter-finals of the Champions League football by Atletico Madrid.
Tata Martino's men must now recover their strength and their wounded pride ahead of two matches which could well define the rest of their campaign, reports Xinhua.
Crashing out of the quarter-finals in Europe, be it to an Atletico side that once again proved its magnificent season is no fluke, is a disaster for a Barca side used to so much more.
This is the first time the Catalans have failed to reach the semi-finals of the Champions League since 2007 and unless they can react straight away there is a very real chance they could also miss out on the La Liga and the Kings Cup.
Barca's next game is away to Granada Saturday evening and they travel to the south of Spain with little time to recover from their 90-minute effort in the Vicente Calderon Stadium.
Martino's side will travel knowing a win would lift them over Atletico Madrid, who play Sunday, and once again pressure Real Madrid.
If they lose however, it would give Real Madrid the chance to leapfrog them in the table and Atletico to open a four point gap, which at this stage of the campaign could be impossible to close.
Martino must be worried his players are running on empty, proof of that being the fact that Leo Messi was almost invisible on Wednesday night. Indeed, he covered only half the distance on the pitch than that covered by Atletico's goalscorer Koke.
Whether he is carrying an injury or not, or simply exhausted after a season spoiled by injuries is open to debate, but Barca need him at his best.
Injuries to Carles Puyol and Gerard Pique have not helped, but even against Betis last Saturday the signs were clear that Barca were tired and needed a rest.
They won't get one, however, because after the Granada match they face Real Madrid in the final of the Kings Cup next Wednesday.
Not only is it the chance to ensure some silverware (other than the Spanish Supercup), but it is also the chance to deny their rivals a prize, something which makes the game doubly important.
Barca raised their game last month to defeat Real Madrid in the Santiago Bernabeu in the La Liga, but it's hard to imagine Real Madrid coach Carlo Ancelotti making the same tactical errors which gifted Barca the midfield.
Once again it will be a trial of strength and nerve and a game in which Barca need their stars to be at their best, because if they can beat Real Madrid it will save their season and give them a morale boost for the rest of the campaign.
If not, the rest of the season could be played out to the sound of knives being sharpened in Catalonia.