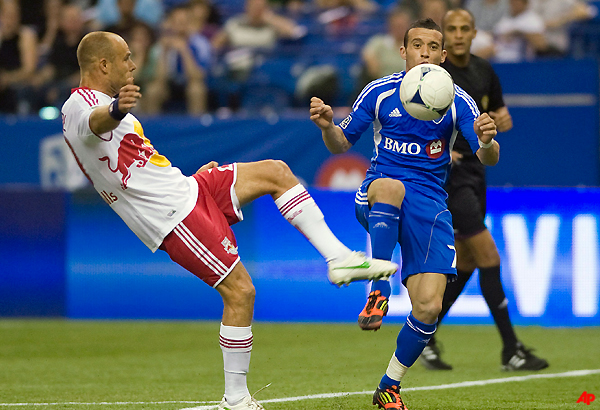 Montreal, May 20: Dane Richards scored in the 67th minute with New York playing a man short as the Red Bulls beat the Montreal Impact 2-1 on Saturday to extend its Major League Soccer winning streak to five games.
Richards pounced on a rebound in close and put the ball under the crossbar.
Kenny Cooper scored his 10th goal to draw the Red Bulls (8-3-1) even as both teams converted penalty kicks in the first half. The striker drove a shot into the top right corner in the 37th minute.
Cooper moved past injured teammate Thierry Henry for the team lead in goals.
Bernardo Corradi scored his team-leading fourth goal 22 minutes in for Montreal.
In other matches Chivas USA beat the Los Angeles Galaxy 1-0, D.C. United downed Toronto 3-1, The Seattle Sounders and the Vancouver Whitecaps drew 2-2, as did the Colorado Rapids and Sporting Kansas City, and Houston Dynamo and New England Revolution. FC Dallas and the Philadelphia Union drew 1-1 along with the Columbus Crew and San Jose Earthquakes.
Jose Erik Correa scored from a penalty in the 72nd minute as Chivas USA beat Los Angeles in the SuperClasico at Carson California.
The victory was Chivas' first at home this season and first against the Galaxy since 2007.
Referee Mark Geiger awarded a penalty when Correa fired a shot into the outstretched arm of David Junior Lopes, leading to a red card for the Brazilian. Correa buried the penalty for his second goal in two games.
Dwayne De Rosario scored two first-half goals at Washington as D.C. United handed Toronto FC its MLS-record ninth loss to open the season.
Hamdi Salihi added a second-half goal for United, while Danny Koevermans scored for Toronto
At Vancouver, British Columbia, Fredy Montero scored in the final minute to give Seattle the draw with Vancouver.
Eddie Johnson also scored for Seattle.
Alain Rochat and Camilo scored for Vancouver
Tyrone Marshall and Kosuke Kimura scored in the second half to help Colorado salvage a home draw with Sporting Kansas City.
Teal Bunbury scored twice for Kansas City.
Saer Sene scored twice for New England at Foxborough, Massachusetts and Houston's Luiz Camargo equalized with 3 minutes left in regulation.
Sene, a 25-year old Frenchman in his first MLS season, opened the scoring with a penalty in the 26th minute and made it 2-1 in the 57th with his sixth goal of the season.
Will Bruin also scored for Houston.
At Frisco, Texas, Gabriel Gomez scored in the 56th minute to help Philadelphia earn a draw with Dallas after Blas Perez opened in the seventh minute.
Alan Gordon found the equalizer for San Jose in the final minute against Columbus at Santa Clara, California.
Columbus' Justin Meram, making his first MLS start, scored during first-half stoppage time.