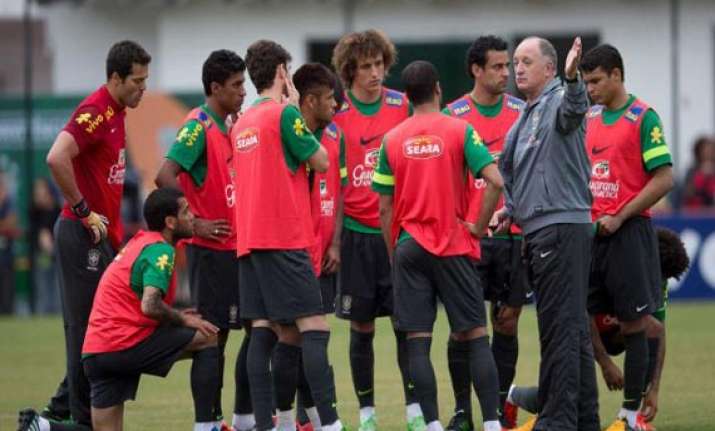 Salvador, Brazil,Jun 24 : Coach Luiz Felipe Scolari is working hard to make sure Brazil doesn't get too upbeat after winning its first three matches at the Confederations Cup.
The national team is being praised by fans and local media across the country, but Scolari knows that his squad is not at its best yet and that the difficulties will increase as the World Cup warm-up competition enters its decisive phase.   
Scolari was trying to keep Brazil from getting ahead of itself not long after it defeated Italy 4-2 on Saturday to win Group A, saying loud and clear that the team still has to improve.   
"With this victory we gain more confidence and the fans have more trust in us," Scolari said. "But there's still a lot to improve and we can't get too excited about it. We won this one match. We are on the right track."   
Brazil also beat Japan and Mexico in the first stage. It had already secured a spot in the semifinals even before the Italy match in Salvador.   
"I would like to see my team improve in certain areas," Scolari said. "Neymar has played very well. But I believe we can do better. I would like to see the whole team doing better."   
Neymar, touted as the future of Brazilian football and the player carrying Brazil's hopes at next year's World Cup, has scored a goal in each of the first three matches and has been the highlight of the Brazilian attack. The two goals conceded against Italy were the first for the defense, although it looked vulnerable at times in the first two matches.   
Regardless of how Brazil played, the victory against Italy made headlines in newspapers across the country on Sunday."Brazil shines," read a front-page headline at the A Tarde newspaper in Salvador."Brazil united," published the Correio, also from Salvador, making reference to both the national team and the protests sweeping the nation in recent days.   
But Scolari knows that the three victories should not give the impression that Brazil is an unbeatable team On Saturday, Italy was without several key players.Scolari had already put the opening 3-0 victory against Japan in perspective because the Japanese arrived just a few days before the match after playing a World Cup qualifier in Qatar. Against Mexico, Brazil had a narrow lead until an injury-time goal sealed the 2-0 victory.   
"Brazil is ready for the semifinal," Scolari said. "We've made it with a team with good technical and tactical quality and with a lot of confidence. But it's not a team that is ready to face many of situations that we will encounter ahead, especially in the World Cup."   
By winning Group A, Brazil likely avoided World Cup Spain in the semifinals and will probably face Uruguay, the defending South American champion, which received a lot of praise from the Brazilian coach.   
"From what our scout has said, Uruguay is the most complete team," Scolari said. "It's well positioned tactically and it will pose a lot of difficulties. We will have to be very careful. It's a very good team."