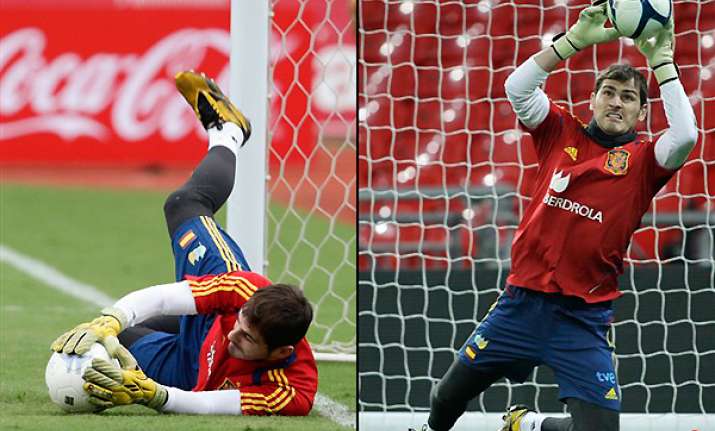 San Jose, Costa Rica, Nov 16: World Cup winning goalkeeper Iker Casillas endured a forgettable record-setting 127th for Spain in a 2-2 friendly draw against Costa Rica on Tuesday.

The Real Madrid player started the game at National Stadium to pass former 'keeper Andoni Zubizarreta and become his country's most capped player. But he was replaced by Victor Valdes at the start of the second half after conceding two goals.

Casillas' error in the 31st minute allowed Randall Brenes to score before Joel Campbell curled the ball into the net in the 42nd on a poor playing surface in the Costa Rican capital.

Victor Valdes replaced Casillas, who equaled Zubizarreta's 126 caps when the European champions lost 1-0 at England 1-0 on Saturday, after the restart when David Silva and David Villa scored late goals to salvage a draw.

The 30-year-old Casillas helped Spain win its first World Cup last year and the European Championship for the second time in its history in 2008.

Spain has won 92, drawn 21 and lost 13 games since the Madrid native, who captains club and country, debuted in a 1-1 draw at Sweden in 2000.

Casillas said his most memorable save was against Arjen Robben in the 2010 World Cup final in South Africa, when Spain beat the Netherlands 1-0 in extra time.

"That moment and that save on Robben is the most memorable, since it came in the World Cup final, in a moment that lasted forever for everyone," Casillas said. "It wasn't your normal stop ... but it's the one people will remember best and I'm proud of it."

Casillas also pointed to a quarterfinal victory over Italy at Euro 2008, when he saved two penalties in the shootout.

Tuesday's match failed to emulate any of those highs as Casillas rushed out of his goal to collect the ball but instead turned it over to Brenes, who lobbed into the open goal. Casillas stretched to his right but couldn't reach Campbell's curling shot as Spain's defense gave the Costa Rica striker time to pick his spot and make it 2-0.

Casillas has played in three World Cups and two European Championships. He has also won four Spanish leagues, two Champions Leagues, two Intercontinental Cups, a Copa del Rey and European Super Cup.

"When you live with this idea of being considered among the greats on a day-to-day basis, you don't really pay attention to it. But when I retire from football and look back at the statistics, I'll relish it more than now," Casillas said last week. "I just hope to be at Euro 2012 and to play more games."

Midfielder Xavi Hernandez, who was in the lineup against Costa Rica, is the next closest on the active player's list with 107 appearances. Former striker Raul Gonzalez is the only other player to surpass the century mark, with 102 games.