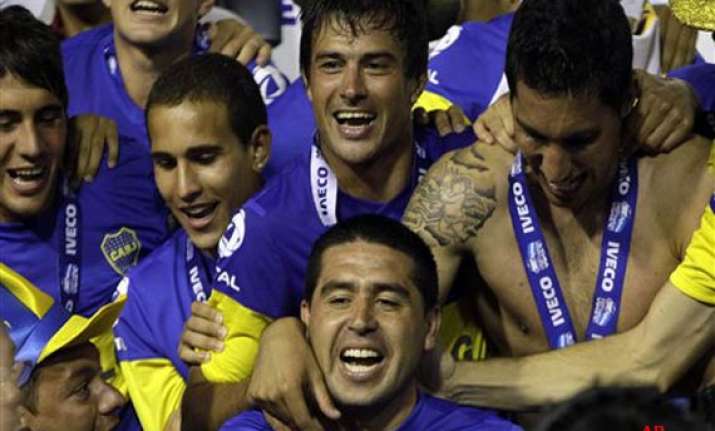 Buenos Aires, Argentina, Dec 5 : Boca Juniors won their first Argentine league title in three years with a 3-0 victory over Banfield on Sunday thanks to two goals from Dario Cvitanich and another from Diego Rivero.

 Cvitanich gave Boca the lead in the 10th minute, slotting in a shot from five meters (yards) after a scramble in front of the net. He scored his second in the 44th, driving in a strike from a corner. Rivero sealed the win in the 47th with a 25-meter (yard) drive.

One of the most popular clubs in Argentina, Boca leads the Apertura championship on 39 points with only two matches remaining. Second-placed Racing has 28 points and Tigre could reach 30 on Monday with a victory against San Lorenzo.

 Argentina divides its league calendar into two seasons -- the Apertura (the opening) and the Clausura (the closing), which wraps up in June. Boca's last title was the 2008 Apertura championship.

Much of the credit for the turnaround has to go to coach Julio Cesar Falcioni, who was hired from Banfield just under a year ago to replace Claudio Borghi after the club finished 20 points behind Estudiantes in the 2010 Apertura championship.

"This is good for the club and good for the players -- thanks to the players," Falcioni said. "Boca won the championship because it was better than everyone else," Falcioni added. "There is no doubt that we were the best."
 
Boca is undefeated in 27 matches and has played much better defense this season. In 17 matches this season it has allowed only four goals.
 
The club has also been more effective on attack, relying on midfielders Juan Roman Riquelme and Cristian Chavez, and less on the aerial game that was aimed at striker Martin Palermo. Palermo retired after the Clausura season.

Riquelme, the fans' favorite player, entered in the second half to a standing ovation and shouts of "Riquelme, Riquelme." The former Barcelona player missed the last six matches with a left foot injury. The league title is Boca's 24th, nine behind Buenos Aires rival River Plate.

The atmosphere at La Bombondera stadium was supercharged on Sunday with tight security in place. The club also held elections on Sunday for the club presidency.
Politics and football are deeply intertwined in Argentina.

Incumbent club president Jorge Amor Ameal was widely reported to have received support in his campaign from Argentina President Cristina Fernandez Kirchner's ruling party. His opponent Daniel Angelici is the favored candidate of the mayor of Buenos Aires Mauricio Macri, who is a former club president of Boca.
 
In other Sunday matches, Independiente and Newell's drew 1-1 as did Belgrano and Godoy Cruz.On Friday it was: Estudiantes 3, All Boys 0; Argentinos Juniors 2, Arsenal 1. On Saturday: Lanus 0,Olimpo 0; Colon 0, Racing Club 2; Atletico Rafaela 2, Velez 0; San Martin 2, Union 0.