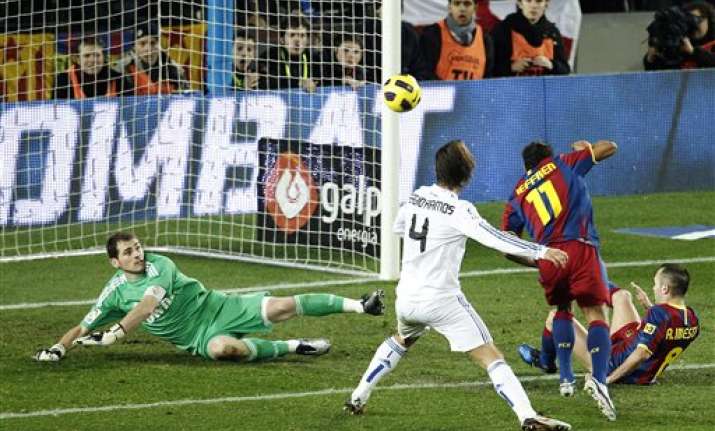 Nou Camp, Nov 29: David Villa scored twice as a majestic Barcelona routed Jose Mourinho's Real Madrid 5-0 on Monday, moving into first place in the Spanish league with their record fifth successive win in the `Clasico.'
A miserable night for Real was compounded in the final seconds when Sergio Ramos was sent off for a crude tackle on Lionel Messi as the visiting side's frustrations boiled over.
Spain's two top clubs and two of the richest clubs in the world, Barcelona and Real Madrid, met before a packed but wet Nou Camp in the Catalan capital on Monday in the country's 'clasico'
The two arch-rivals, many of whose players were members of Spain's World Cup winning squad in South Africa in the summer, were separated by just one point in La Liga with the leaders, Real, ahead of their hosts with Barcelona having lost just one game and Real still undefeated.
Once the game began Barcelona dominated from the start and their Argentinian maestro, Lionel Messi, almost gave them the lead after five minutes but his precise, curling chip came back off the woodwork with Real goalkeeper Iker Casillas well-beaten.
Four minutes later, however, the hosts took the lead.
Andres Iniesta picked out Xavi as he streaked between two defenders and the ball flicked off the Spain midfielder's heel before he reacted quickly to direct it past Casillas.
Eight minutes later Barcelona doubled their lead as Pedro capped a mesmerising 22-pass build-up to make it 2-0 as he pushed a loose ball home after Casillas failed to hang on to David Villa's dangerous ball in from the left.
The visitors' frustration and the tension of the match came to a boil in the 31st minute when both benches leapt to their feet after Real's Portuguese winger, Cristian Ronaldo, shoved Pep Guardiola when the Barcelona coach didn't hand over the ball for a throw-in.
Ronaldo and Barcelona goalkeeper Victor Valdes both ended up with the yellow cards.
Barcelona put the game beyond Real's reach with two goals - both created by Messi and finished by Villa - in a three-minute period ten minutes after the restart.
Villa got behind Real defender Pepe in the 55th minute to receive the ball from the Argentinian and slot past Casillas, who was again on his own three minutes later when Villa slotted under him for his eighth of the season.
A well-beaten Real failed to create any danger after that as Barca substitute Jeffren Suarez scored in the third minute of injury time to seal the 5-0 humiliation, inflicting on Mourinho's men their first defeat of the season and taking Barcelona to the top of the table.
Moments later, Sergio Ramos was shown a red card for a crude hack on Messi - he then compounded his dismissal by first shoving Carles Puyol and then Xavi as he left the pitch.
Carles Puyol, FC Barcelona team captain, played down any ideas that his team would hold a grudge against some of the Real players for their conduct.
"I think that what happened is normal. These are games of great tension and all players play under pressure. This is normal and is not forgotten. We have great friends on the other side. What happens on the pitch stays there", said Puyol.
Daniel Alves, FC Barcelona defender, said the victory answered any questions their doubters may have about their ability to defend their La Liga title.
"This has been a blast. A blast of humility to all those who were speculating about these game. Some said that their victory was assured. I think answers should be given on the pitch. And today we have given a very positive answer", said Alves.
Pedro Rodriguez, scored the side's second goal and said they did exactly what their coach Pep Guardiola asked of them.
"I think he have played the right way. We did everything we had to do. We found the goals very fast and that helped us a bit. And from then on we played very well and that resulted in a comfortable victory for us", said Rodriguez.