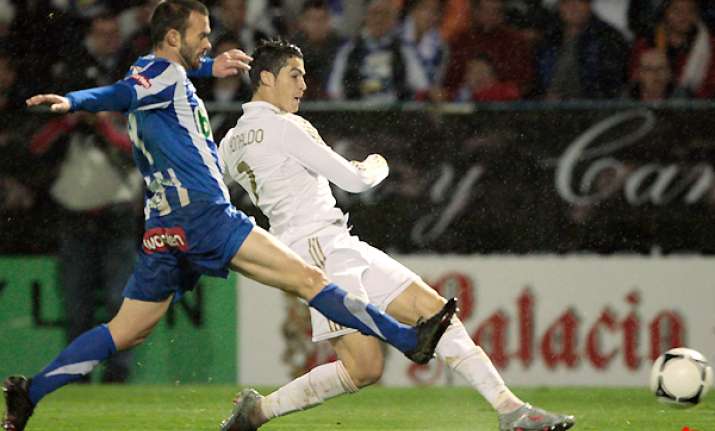 Geneva, Dec 16: Champions League favorites Barcelona and Real Madrid will line up alongside knockout stage newcomers APOEL and FC Basel on Friday when the draw is made for the last 16 in club football's most prestigious competition.

Like their Cypriot and Swiss counterparts, Napoli and Zenit St. Petersburg will also being making their debuts at this stage of the money-spinning Champions League.

Defending champion Barcelona and nine-time winner Madrid are Spain's only survivors from the group stage, while England has just Arsenal and Chelsea instead of its customary four challengers.

Italy, however, has three representatives, 2010 champion Inter Milan, seven-time winner AC Milan and Napoli. Germany, France and Russia also have two clubs left as the Champions League features a broader spread of teams than in previous seasons.

APOEL is the first Cypriot team to progress this far, while Portuguese club Benfica and Swiss champion Basel complete the lineup.

Still, the quality and tradition is upheld by seven previous champions who have combined to win 30 of the 56 titles since Europe's signature club competition began in 1955.

Barcelona, a four-time champion, will discover its next opponent while in Japan playing in the Club World Cup, an honor it earned by beating Manchester United in last year's final in London.

Man United is missing this time, exiting for only the second time in 16 tries after losing to Basel.

Basel rewarded interim coach Heiko Vogel with a permanent contract this week for its best performance since reaching the second group stage in 2002-03, the final season before UEFA introduced the current format.

As a group runner-up, behind Benfica, Basel is unseeded but could be paired with APOEL in a meeting of surprise packages.

APOEL shapes as the weakest seeded team, having tallied the fewest points (nine) among the eight group winners and the fewest goals (six) of any team to advance.

Reflecting Spanish dominance, only Madrid won all six group matches and Barcelona was most prolific, scoring 20 goals.

Lyon had scored only twice, and had been shut out by Madrid and Ajax, until its 7-1 rout of Dinamo Zagreb last week secured its progress. The result—and Dinamo's display—raised eyebrows across Europe but UEFA has declared the match above suspicion.

At the last 16 stage, no team can play a club from its group or a national rival.

Seeded group winners will play away in the first leg on Feb. 14-15 and 21-22. Return matches are to be played on March 6-7 and 13-14.

The scheduling means two seeded teams must travel to bitter cold Russia in February to face CSKA in Moscow or Zenit in St. Petersburg.

CSKA, which has had close financial ties to Roman Abramovich, could play Chelsea, which is owned by the Russian billionaire.

The final will be in Munich on May 19, and Bayern is looking to be the first team playing a Champions League or European Cup final in its home stadium since AS Roma in 1984. Roma lost to Liverpool in a penalty shootout after a 1-1 draw.

Each of the last 16 teams has already earned about £10 million ($13 million) in prize money and bonuses from UEFA, plus a share of pooled television rights revenue which will eventually distribute around £350 million ($456 million).

UEFA will pay an extra £3 million ($4 million) for reaching the first knockout round and payments increase with each round to follow.

Man United was the biggest prize money earner last season, getting £53.2 million ($69 million) from UEFA. Its share this season is likely to be less than £30 million ($39 million), with just a few million on offer now in the Europa League.

The draw for the Europa League's last 32 is also Friday, with United joining among the eight third-place teams from Champions League groups.