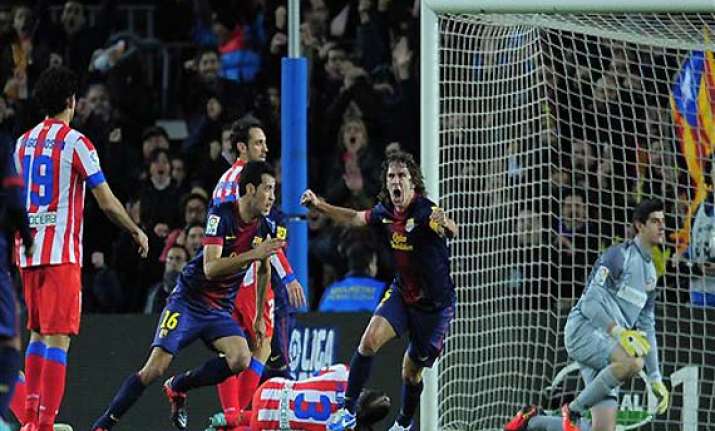 Madrid, Dec 17: Barcelona defeated Atletico Madrid to take a massive step towards conquering this season's Spanish Primera Liga football title.
Sunday night's win leaves Barca at top of the table with a nine-point lead over Atletico and a massive 13 points in front of Real Madrid, reports Xinhua.
The game kicked off with both sides knowing that third place Real Madrid had dropped two vital points by drawing 2-2 at home to second from bottom Espanyol and that seemed to affect Barcelona more than the visitors.
Atletico had disappointed on their visit to Real Madrid's Santiago Bernabeu Stadium a fortnight ago and were clearly determined to avoid a repeat. Although Diego Simeone's side were looking organized in the middle and at the back, players such as Arda Turam, Koke and Falcao had the pace to trouble Barca on the break.
Falcao showed that after just eight minutes when he headed Koke's cross from the right onto the Barca post. And 16 minutes later he dragged a shot wide when given a run on goal. Meanwhile when Barca had the ball, Atletico got everyone back into their own half to shut down the spaces and crowd out players such as Leo Messi and Andres Iniesta.
The Colombian was not to be denied a third time, however, and netted his 16th goal of the season in a repeat of his earlier miss. Diego Costa bullied Messi off the ball and Falcao latched onto his ball into space before lifting the ball over Victor Valdes to put Atletico ahead.
The lead didn't last long, however as Adriano Correia scored with a magnificent curling left foot shot after cutting in from the right.
That was the sign for Barca to turn up the pressure and Sergio Busquets kept his cool to score from close range following a goalmouth scramble in the last minute of the half.
Anyone expecting Atletico to get back into the game was in for a disappointment as Barca totally controlled the game without the need to try and unlock the Atletico backline again.
Now the onus was on the visitors to score but that left more spaces for Tito Vilanova's side and they were explained twice by Leo Messi, who underlined his status as the best player in the world with goals in the 57th and 87th minute, and they were his 89th and 90th goals of 2012.