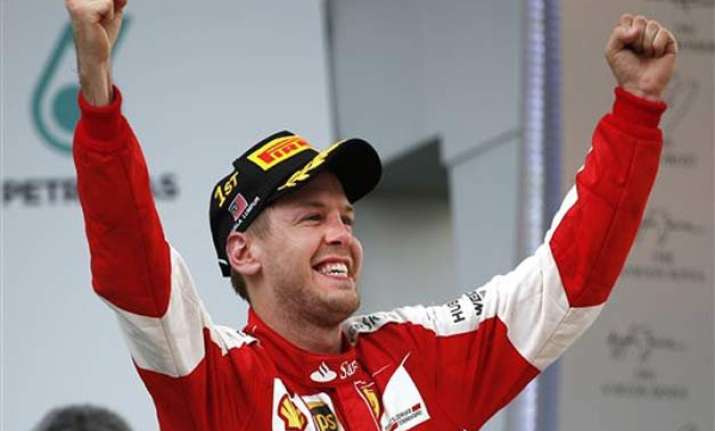 Sepang, Malaysia: Ferrari driver Sebastian Vettel won the Malaysian Grand Prix on Sunday to end Mercedes' long Formula One winning streak and make the 2015 season look like a genuine contest between the two teams.
Vettel elected not to pit during an earlier safety-car period, while second-placed Lewis Hamilton and third-placed Nico Rosberg did in their Mercedes cars, and the clear air at the front of the field during that period proved the difference, as Vettel won by 8.5 seconds at the Sepang International Circuit.
Mercedes had won the previous eight races dating back to last season and had been expected to dominate through 2015 after a one-two finish in the season opener in Australia, but in just the second race of this season, Vettel's win indicated a potential fight for the championship ahead.
It was Ferrari's first victory since the 2013 Spanish Grand Prix, while Vettel — in only his second race for the team after leaving Red Bull — recorded his first win since the Brazilian Grand Prix that year.
After shouting on the team radio in delight he celebrated with crew members and danced around his car waving the Prancing Horse flag. He was in tears before taking to the top step of the podium, and choked up as he spoke.
"I am very, very happy and proud of today, we beat them fair and square, it was a great achievement," Vettel said.
"Today is a very, very special day and will always remain a part of me."
Ferrari's Kimi Raikkonen, who suffered an early puncture, was fourth, ahead of Williams drivers Valtteri Bottas and Felipe Massa. Then followed the Toro Rosso rookies Max Verstappen and Carlos Sainz Jr., who were ahead of their senior Red Bull team, with Daniil Kvyat ninth and Daniel Ricciardo 10th.