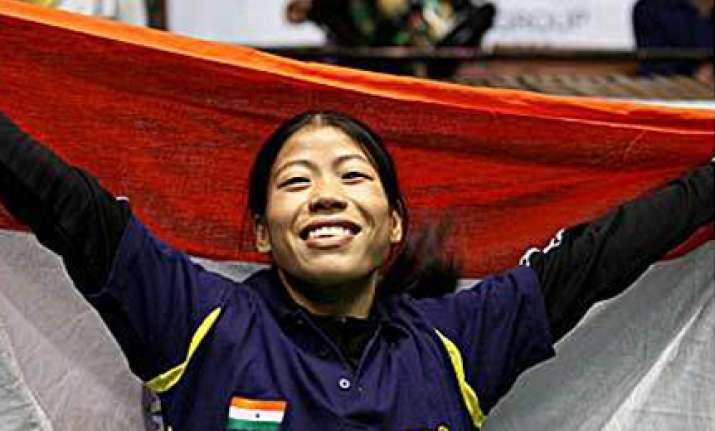 Four-time world champions MC Mary Kom's temporary suspension was revoked on Wednesday in Jamshedpur after the Manipuri pugilist apologised for her unsporting behaviour in the ongoing National Boxing Championships and promised never to repeat it again.
"Having considered her achievements and seniority, the temporary suspension till 27th October of Mary Kom has been lifted after she apologised before the jury and the officials this morning," P K Muralidharan Raja, secretary general of the Indian Boxing Federation, said here.
Mary Kom was slapped the temporary suspension because of her "unsporting behaviour" after her surprising quarter-final loss to Pinky Jingra of Haryana on Monday.
Raja said the IBF Executive Council, comprising himself, vice presidents N S Kichi and Asit Banerjee, senior joint secretary Anil Bohidhar and the technical director of the ongoing championship, called Mary Kom and the jury members to discuss the ugly incident.
Mary Kom subsequently apologised before the council and promised not to repeat such behaviour in future and the IBF Executive Council decided to revoke her suspension as there is no major event till October 27, Raja said.
The IBF official described Mary Kom's outburst against the jury as a "heat of the moment reaction" but made it clear that IBF would not tolerate such indiscipline irrespective of the achievements of the boxers.
Mary Kom is a world champion and senior boxer and the IBF decision to punish her was to set an example before others, Raja said.
He also expressed confidence that Mary Kom, being an ambassador of women boxing, would set examples in the sport arena to promote the game.
Mary Kom lost her bout against Pinky on count-back and the five-member jury had to step in with their judgment after they were locked in a 15-15 stalemate. PTI