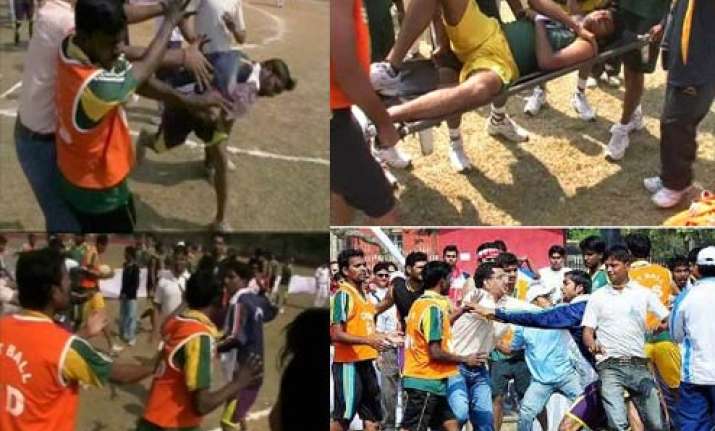 Ranchi, Feb 22:  Police had to intervene in two separate incidents involving sportspersons  durig the  34th National Games.
At the Games Village on Monday night, a heated argument between athletes turned nasty and at the centre of the storm was the 'fastest man of the meet' Sameer Mon.  
The Services sprinter, who won the 100m title last Wednesday, picked up a fight with an athlete from Jharkhand during the evening cultural programme and it took a violent turn at the Food Plaza during dinner.  
Jharkhand police later confirmed detaining three sportsperson from the Services team, one of them in an inebriated state, to "avoid law and order problem".
In Dhanbad, Jharkhand and Andhra Pradesh teams clashed during a netball match on Tuesday, which resulted in six AP players being admitted to hospital with head injuries and fractured limbs.
Mon, allegedly in an inebriated state, assaulted the athlete at the Food Plaza with help from his Services teammates.  
The Jharkhand athlete, whose name has not been revealed yet, retaliated with his friends. Services coaches tried their best to pacify Mon but he did not look in a mood to calm down as he, along with his teammates, attacked the other athlete. With both parties not ready to compromise, police had to intervene and took them into custody.
The Jharkhand Olympic Association, its hands full with several cases of mismanagement at the Games, was quick to say that "the issue has been sorted out".
"Nobody is injured, all are safe and fine," JOA president RK Anand said. JOA secretary SM Hashmi even denied the involvement of Jharkhand athletes.
"Players from Punjab and Services entered into a fight and we had to speak to the chef-de-mission of both the teams," he said.
"We detained three players from Services team for the night as they had no events the following morning," said senior SP of Ranchi, Praveen Singh.