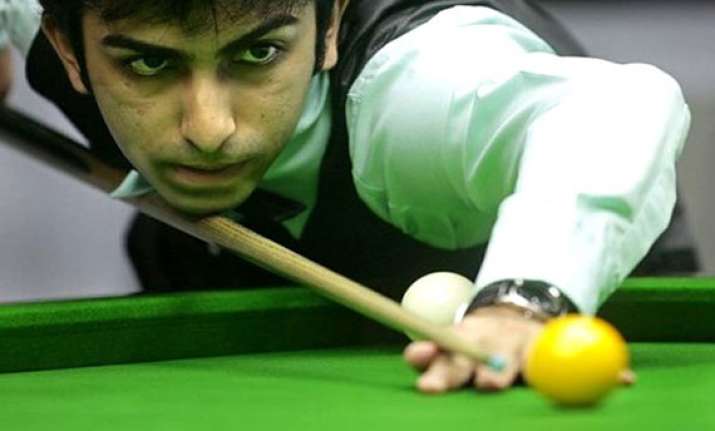 New Delhi: India's Pankaj Advani authored a brilliant 4-1 win over Marcus Campbell of Scotland to enter the second round of the Indian Open World Snooker professional ranking tournament here Tuesday, in front of a near-sellout crowd.
The 28-year old Advani, ranked 70th, thus joined compatriot Aditya Mehta who Monday night had put out 2002 World champion Peter Ebdon 4-3 in a titanic contest. In the process, Advani also posted the tournament's highest break so far of 134 clearance in the fourth frame.
While Advani faces World No.11 Mark Allen in the next round, Mehta goes up against Hamdah Miah, an Englishman of Bangladeshi ancestry. Both matches are scheduled for Wednesday.
Advani was off to a flier as he took the first frame on a break of 74 and the second on the colours after Campbell fluffed a sitter green. The World No. 27 Scot fought back with a delightful 39 clearance to take the third that Advani had started with a run of 52.
Advani then uncorked the 134 clearance in the fourth for a 3-1 lead. The break nearly ended on 49 when the black wobbled in the jaw before sinking, much to the relief of Advani and the packed crowd.
The fifth frame saw Advani opening with a run of 52 and the 41-year old Campbell, after a few tentative attempts, threw in the towel as he required snookers at that stage.
While admitting that he started off well in the match, Advani felt that winning the second frame was crucial to the outcome, but with Campbell not in best of form, he realised he could control the match.
"It was a good start for me, but the second frame was crucial as it could have gone the other way. He has not been in best of form on the circuit, but had he won the second frame, it could have been different. Winning the second frame gave me a lot of confidence."
Advani said he did not remember much of the century break and only realised that he was on a big break with only two reds left on the table.
"Frankly, I do not remember much or how it all started. Only when there were last two reds, I realised I was on a big break. I was lucky when on 49 as I took the eyes off the black, but it hit the jaw before rolling in."