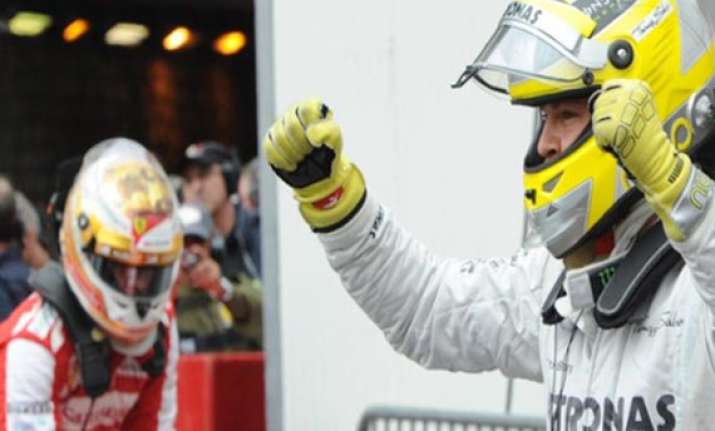 Monaco, May 26: Nico Rosberg kept his cool amid the chaos to win the crash-marred Monaco Grand Prix on Sunday and give Mercedes its first victory of the season, as well as emulate his father's victory from 30 years ago.
The German driver began from pole position for the third straight GP, but he had to re-start three times after the race was held up by a safety car, a red flag and the safety car again.
Rosberg finished ahead of championship leader Sebastian Vettel and his Red Bull teammate Mark Webber. Lewis Hamilton finished fourth.
The red flag came out with about 30 laps to go when Williams driver Pastor Maldonado was nudged into the wall by Marussia's Max Chilton.
Earlier, Ferrari's Felipe Massa crashed and the safety car came out a second time when Frenchman Romain Grosjean smashed his Lotus into Daniel Ricciardo's Toro Rosso.
Rosberg danced on the bonnet of his car before jumping off to hug team members.
In 1983, the former world champion Keke Rosberg took the chequered flag in Formula One's showcase race.
Fernando Alonso failed to repeat his Spanish GP win from two weeks ago and could only manage seventh place, while Kimi Raikkonen finished way down in 10th after being barged by McLaren's Sergio Perez late on.
Rosberg's driving was slick, but the crashes will dominate the headlines as Monaco again confirmed it is one of the most difficult tracks in F1.
Chilton lost control and moved across into Maldonado on his side, sending the Venezuelan off the wall and into the crash barriers. Chilton's teammate Jules Bianchi was dragged into the crash but no driver was hurt.
Massa, meanwhile, ploughed into the wall and slid across the track in a carbon-copy of his crash in Saturday's third practice.