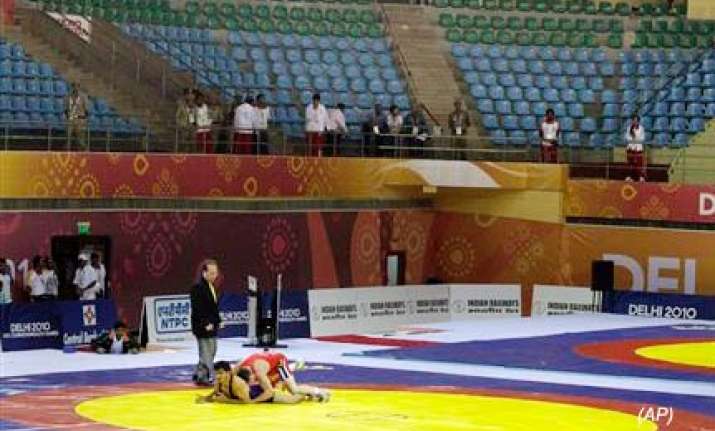 New Delhi, Oct 6: Grapplers Rajender Kumar and Sunil Kumar gave India more reasons to cheer by clinching a gold and bronze respectively in Greco-Roman style wrestling in the Commonwealth Games today.
Rajender overpowered Pakistan's Azhar Hussain 11-0 in a one-sided final of the 55kg category to fetch the gold, while Sunil overpowered Hawthorn of Wales in his 66kg bronze medal play-off bout.
In his final bout against Azhar, Rajender showed his class in the opening period as he raced on to a 5-0 lead, flipping his Pakistani rival twice.
Jolted by Rajender's lead, Azhar came out on an agressive mood in the second period and even brought blood from his opponent's nose with some dangerous play.
But even a bloody nose could not deter Rajender as he pinned his opponent in the second period to pocket the gold.
Rajender had earlier defeated Sri Lanka's Kumara Yaparathna 14-0 in the qualification round and then outclassed Canadian Promise Mwenga, who won the bronze, 11-0 in the semifinal.
India had yesterday bagged three gold medals in the Greco-Roman style with Ravinder Singh (60kg), Sanjay (74kg) and Anil Kumar (96kg) coming out with flying colours. PTI