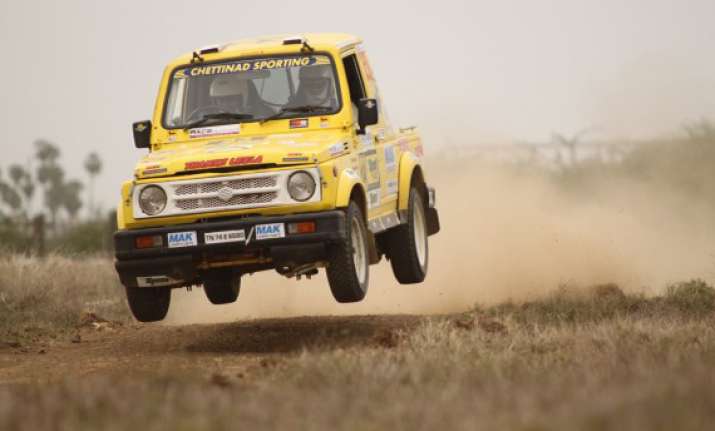 Coimbatore, July 18: It is as close to a dream line-up as it gets as the third round of the FMSCI Indian National Rally Championship commences here on Saturday with a 32-four-wheeler grid that will start the Rally of Coimbatore.
Headlining the field are former World champion (production class) Karamjit Singh of Malaysia with compatriot Jagdev Singh in the navigator's seat in a Volkswagen Polo representing Slideways Industries, India's ace driver Gaurav Gill (Musa Sherif) who will be seeking a hat-trick of wins this season in a modified factory-backed Mahindra XUV 500 and reigning National champion Amittrajit Ghosh (co-driver Ashwin Naik) driving a Group N-spec Mitsubishi Cedia.
Also in the mix is Delhi-based Samir Thapar of JCT Rallying with Erode's Vivek Ponnusamy, winner of 2012 FIA award for Asia Pacific two-wheel drive cup as his co-driver in a Mitsubishi Lancer Evo X prepared by top tuner and former National champion Narayanaswamy Leelakrishnan of Red Rooster Performance.
Further down the grid is former National champion Vikram Mathias (Chandramouli) who is making a comeback after a two-year break. It will be his second outing this season after finishing second overall in the Rally of Maharashtra, driving a Cedia. This time, Mathias will be piloting a VW Polo car for Slideways team that has fielded as many as six cars.
Asia Pacific Championship title contender Gill, along with team-mates Lohitt Urs (Bonnie Thomas) and Sunny Sidhu (PVS Murthy), will be competing in the SUV category that was introduced this season, while Karamjit is in the top-end Indian Rally Championship (IRC) class that also has Thapar, winner in the first round, and Sumit Punjabi (Chetan Shivram) in a VW Polo. Being a foreign national, Karamjit is ineligible for championship points.
Kolkata-based Ghosh, the Overall INRC winner in the previous two rounds, leads with a tally of 78 points, well clear of Arjun Rao (Satish Rajagopal) who has 40 after a near-win in the first round and third place finish in the second this season, driving a VW Polo.
Rao, however, heads the championship standings in the 1600cc class with 66 points, just six ahead of Sirish Chandran (Nikhil Pai) of team Slideways.
The Junior INRC class is likely to witness close battles up and down the grid with Bangalore's Asad Khan (Zayne Asrar) on top with 68 points after winning the second round in Nashik and finishing second in the first outing in Chennai, driving a Maruti Esteem.
Ranged behind Khan are Anirudha Rangnekar (Nitin Jacob) in a VW Polo of team Slideways (47 points), just one point ahead of Chennai winner Suhem MK (J Jeevarathinam) who will be driving a Maruti Baleno.
With a host of other experienced drivers like Rahul Kanthraj (Vivek Bhatt), Vikram Devadasen (Srikanth Gowda) and Dr Bikku Babu (George Varghese), all driving the Mistubishi Cedia, the Rally of Coimbatore, with its fast and flowing Special Stages, promises close contests in virtually every class.
The two Special Stages, Gem (12.45Kms) and Textool (24.81Kms) that would be run twice on Saturday and once on Sunday, are located near Kethanur about 40 Kms from Coimbatore. The Stage terrain is said to be "smooth gravel" with average speeds in the range of 70 to 75 kmph.
The event will conclude with a Super Special Stage (2.32Kms) at the Kari Motor Speedway on Sunday afternoon. The total Rally distance is 347.6 Kms of which 114.10 Kms will be competitive (Special Stages).