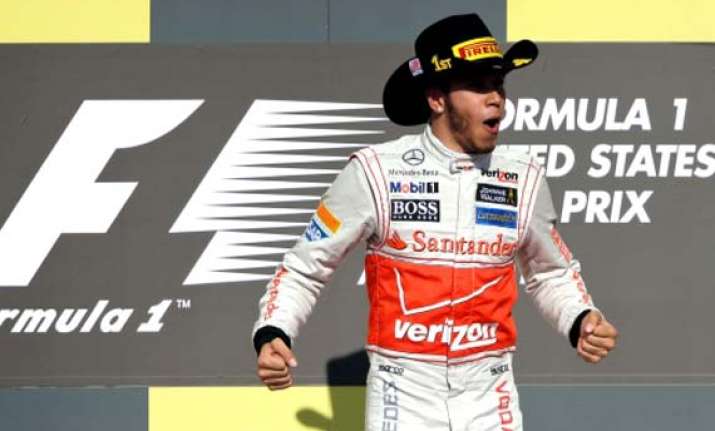 Austin, Texas, Nov 19: A bold passing maneuver at the end of a long straightway slipped Lewis Hamilton past Sebastian Vettel, and the McLaren driver went on to win the U.S. Grand Prix on Sunday in the first Formula One race on American soil since 2007.
The drivers' championship will be settled next week in Sao Paolo, Brazil, after Red Bull's Vettel finished second and Ferrari's Fernando Alonso third.
Vettel started the race in the pole position and led the first 41 laps before Hamilton caught him, sneaking past Vettel just before they reached the tight corner on turn No. 12 at the Circuit of the Americas.
Hamilton started in the No. 2 position and pushed Vettel at every opportunity.
Vettel, the defending two-time Formula One champion, remained slightly ahead of Ferrari's Alonso in the drivers' championship, meaning the title will come down to the final race of the season.
Hamilton, who won the last U.S. Grand Prix, talked all week about how much he loves the United States and how badly he wanted to win in his return.
With the stars and stripes of the American flag painted on top of his helmet, Hamilton pulled off the daring move of the race with his pass.
Vettel had been dominant in practice and qualifying on the new $400 million track that none of the teams had driven before this week, but couldn't hold off the former world champion Sunday.
Vettel survived the chaos of the start as the drivers reached the top of the 133-foot elevation at the signature first turn, then whipped around and down into the second before hitting a series of curves.
Vettel kept clear of the congestion and looked to be off and running to a victory. But Hamilton kept looking for his chance on every pass through the straightaway before he finally found the room he needed.
Alonso had to work hard to keep up and keep the chase for the drivers' championship going.
Alonso was set to start in eighth. He got a boost to seventh when Ferrari broke the gearbox seal of Alonso's teammate, Felipe Massa, incurring a five-spot penalty for Massa that allowed Alonso to move up.
Alonso used the better position to immediately advance three spots on the first lap. He ran into trouble with a bad pit stop when his crew struggled to replace his rear left wheel, but made up enough ground to finish third.
Vettel still leads the drivers' championship race by 13 points.
The 25-year-old German would be just the third driver to win three consecutive titles, joining Juan Manuel Fangio and Michael Schumacher.
Alonso, 31, of Spain, won consecutive titles in 2005 and 2006.