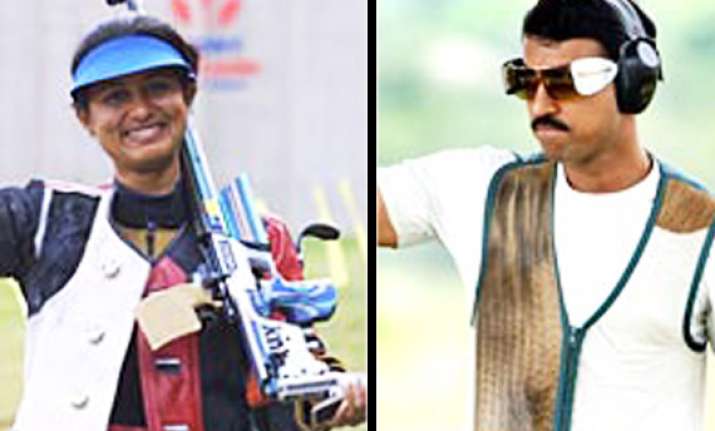 Doha, Jan 14: The final bid for top Indian shooters Rajyavrdhan Singh Rathore and Anjali Bhagwat to qualify for London Olympics ended in disappointment as they failed to make it to the final round in their respective events in the Asian Shooting Championships here today.

Rathore, Athens Olympic silver medallist in men's double trap, and Anjali, former 10m air rifle world number one, will now miss London Olympics as the competition here is the last qualifying event for them.

Double trap world number two Ronjan Sodhi, who had already earned his London Olympics quota, too could not make it to the final round, adding to the gloom in the Indian camp.

All eyes were on Rathore after he had equalled the world record of 148/150 at Asian Shotgun Championship in November, but he failed to adjust to the windy conditions.

After enjoying near perfect conditions during training, the weather this morning made life difficult for all shooters with high wind speeds playing havoc.

Banking on his experience, Rathore opened with a 48/50 that tied him for the lead. But it all came undone in the second series as he could manage only a 41.

With his back to the wall, Rathore needed to shoot at least 47 to be in contention for the final round but he ended with a 46 for a final total of 135/150 It was apparent what went wrong.

"The gusts of wind were just too much to handle. That 41 in the 2nd round was the problem. We have ways to adjust technically but those ways are to cope up, not to overcome the conditions. The wind was about 22 miles, the gusts were 27 miles. It was moving the gun," said Rathore in disappointment.

"Training had been fantastic. There is time and then there is effort both have to be balanced out. For that you need to be in the team and training and competing. I knew I had just one chance and it is touch and go in these circumstances," he said.