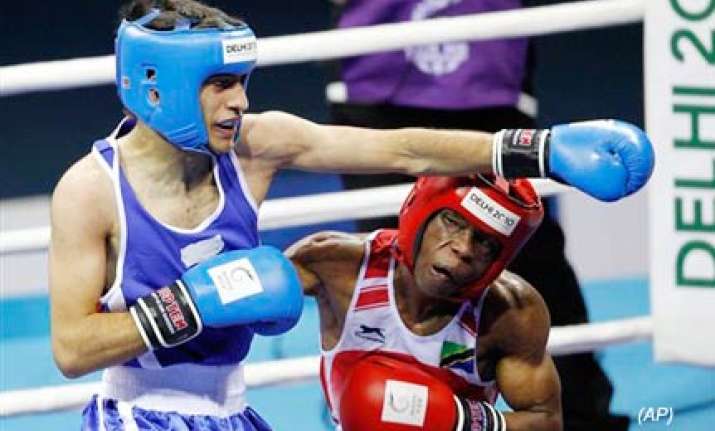 New Delhi, Oct 11 :  India's hopes of winning a bagful of gold medals from boxing in the Commonwealth Games suffered a setback as their three pugilists lost semifinal bouts to settle for bronze at the Talkatora Stadium here today.
Commonwealth Championships gold medallist Amandeep Singh (49kg), Asian silver-medallist Jai Bhagwan (60kg) and nine-time national champion Dilbag Singh (69kg) had to be content with bronze medals after losing their semifinal bouts.
Amandeep lost 0-5 to Olympic bronze medallist and European champion Paddy Barnes of Northern Ireland, Jai went down 5-10 to European Championship silver winner Thomas Stalker of England and Dilbag was beaten 4-5 in a thrilling contest against Northern Ireland's Patrick Gallagher.
Amandeep was the first to take the ring for India today and he just could not break Barnes' shell guard despite his best efforts.
The Punjab-boxer tried everything from hooks to uppercuts to some hard-hitting straight punches to break through Barnes' defence but the Irish boxer did not give any chance to the crowd favourite.
The first round had Barnes leading 2-0 and the Olympian's brilliant anticipation of Amandeep's attack ensured that he did not concede a single point even in the next two rounds.
"I tried everything to break his guard but it just didn't happen. I was hitting a lot of uppercuts but it didn't work," said a disappointed Amandeep.
"But I am happy to have won a medal in my very first Commonwealth Games," he added.
Next up was Jai and despite putting up a good fight, the Indian was undone by a couple of warnings that seemed too harsh. The Asian silver-medallist was warned twice for hitting Stalker below the waistline in an ill-tempered bout.
Jai led 3-1 in the opening round but the advantage was reduced to 4-3 when he was warned for hitting Stalker below the target area not once but twice.
The warnings ultimately shifted the momentum in the Englishman's favour, who found himself leading only towards the end of the second round. Once ahead, Stalker lowered his guard and went for all-out attack against Jai, who could not adjust to the sudden change in the pace of the proceedings.
"The warnings were slightly harsh. I think the first time around, I hit him only on his hand but may be the referee didn't get a clear view of where exactly the punch landed," Jai said.
"But every loss is a lesson and I will also learn from here. I will go back and see the recordings of the bout," he added.
Even Stalker felt that the local favourite put up a good fight.
"He was a tough opponent and hit some very hard punches," he said.
Dilbag was the last Indian to step inside the arena in the first session and he gave it his all against Gallagher only to lose the bout by a whisker.
The entertaining bout had both the boxers employing some unorthodox tactics and the crowd was kept amused with a bit of wrestling as well.
The first round ended 1-1 as both tried to probe each other but Gallagher began to get a grip of the proceedings with some smartly-executed jabs even while keeping a shell guard to thwart the Indian.
Dilbag bounced back in the final three minutes but Gallagher's evasive tactics ensured that the Indian could not breach his lead.
In the evening session later today, world number one Vijender Singh (75kg), Asian champion Suranjoy Singh (52kg), Manoj Kumar (64kg) and Commonwealth Championships gold-medallist Paramjeet Samota (+91kg) would aim for a berth in the October 13 finals. PTI