Follow us on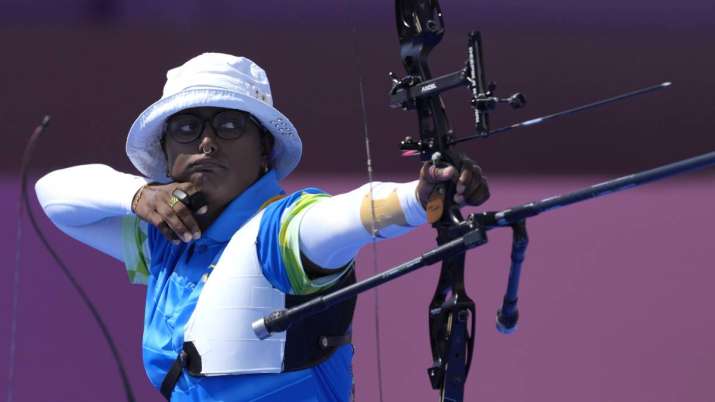 Tokyo Olympics 2020 Day 5 LIVE Updates: Deepika Kumari enters round-of-16
Follow Live Coverage of 2020 Tokyo Olympics here
Results from India's events on Day 5 so far:
Archery, Men's Individual: Tarundeep Rai - loses in R32 to Israel's Itay Shanny
Badminton: PV Sindhu - enters pre-quarters; to face Denmark's world number 12 Mia Blichfeldt
Hockey: India women lose 1-4 to Great Britain in Group A; currently at 5th with two games to go (against Ireland and South Africa)
Archery, Men's Individual: Pravin Jadhav loses to Brady Ellison 0-6 in round-of-32.
Archery, Women's Individual: Deepika Kumari beats USA's Jennifer Mucino-Fernandez in R16 elimination.
Boxing: Pooja Rani reaches quarterfinals in women's middleweight category; beats Algeria's Ichrak Chaib 5-0
---------------------------------------------------------------------------------------------------------------------------------------------------------------------
04.00 PM: Join us tomorrow at 5:30 PM, when Indian shooters Manu Bhaker and Rahi Sarnobat aim at some redemption after a disappointing outing for the contingent. The duo takes part in the 25m air pistol event.
03.38 PM: And that marks the end of India's day 5 at the 2020 Tokyo Olympics. While we continue to wait to add to Mirabai Chanu's silver medal in the tally, there have been steady progressions in the road to achieving the same.
PV Sindhu proceeded to pre-quarters in badminton singles; as did Deepika Kumari in archery - and both remain India's strongest contenders for a podium finish at the Tokyo Games.
The Indian women's hockey team endured a third consecutive loss in the group stage but remain alive in contention for a place in the quarterfinals. Of course, they need to beat Ireland and South Africa in their remaining two matches.
Middleweight women's boxer Pooja Rani is now only one win away from securing a medal after she defeated Algeria's Ichrak Chaib in an unanimous decision (6-0). She joins Lovlina Borgohain as India's second quarterfinalist in boxing (Borgohain is in the welterweight category).
India, however, faced disappointment in men's archery. Pravin Jadhav did fight valiantly to beat world no.2 Galsan Bazharzhapov before going down to world no.1 Brady Ellison of USA. Tarundeep Rai was also knocked out in similar fashion, but he lost to an opponent ranked way below him at 92nd (Rai is ranked 54th), Itay Shanny of Israel.
03.28 PM: (Badminton) Sai Praneeth loses his final game of Group D against Mark Caljouw in straight games (14-21, 14-21). He finishes the Tokyo Olympics campaign winless.
Praneeth had already been ruled out of contention for a place in the next round when he lost his first match in straight games. However, with this loss, we have the official confirmation: PV Sindhu is now India's only shuttler in the badminton event.
03.10 PM: (Archery) Deepika Kumari wins! She has reached the pre-quarters of the women's individual event! A wonderful fightback from India's sole women's archer. She opened with a disappointing 7 in the first set, made quick recovery with successive 9s and built on the momentum with a strong 28/30 in the second. 
Mucino-Fernandez, who had previously recovered from scoring a disastrous 2/10 against Ukraine's Anastasia Pavlovla, showed great resolve in equalising 4-4 in the fourth set. However, Deepika's experience proved crucial as she held nerve to take down her USA opponent in the decider.
03.07 PM: (Archery) And the US teenager makes a comeback! Deepika's second arrow, which resulted in a disappointing 6, cost her the fourth set and we are onto the decider. 4-4. FYI, Mucino-Fernandez won the decider in the previous round against the World No.36!
03.05 PM: (Archery) And Deepika takes the third set! A perfect-ten in the first arrow set the tone for her comeback in the game. From 0-2 down, Deepika now leads 4-2. 
03.00 PM: (Archery) Deepika Kumari makes an excellent comeback in the second set! Hits two consecutive 10s to win to seal the set 28-25.
02.58 PM: (Archery) Not a good start from Deepika. A poor first arrow of 7 cost her the first set against USA's 18-year-old.
02.57 PM: (Archery) Deepika Kumari returns to the Yumenoshima Final Field to take on Jennifer Mucino-Fernandez in the round-of-32.
02.54 PM: (Boxing) And Pooja Rani has reached the quarterfinals by an unanimous decision!
02.50 PM: (Boxing) And Pooja has won the second round by an unanimous decision as well. She receives a perfect-ten by all the judges. 
02.46 PM: (Boxing) Pooja Rani has won the first round against Algeria's Ichrak Chaib by an unanimous decision! All the judges have given her a score of 10, as opposed to Chaib's 9.
02.44 PM: (Boxing) The round-of-16 bout between Pooja Rani and Ichrak Chaib has begun. 
02.40 PM: (Archery) Deepika Kumari will meet USA's Jennifer Mucino-Fernandez in her round-of-32 match at 2:53 PM. Mucino-Fernandez
02.27 PM: (Boxing) Pooja Rani will begin her campaign against Algeria's Ichrak Chaib in the women's middleweight category in a few minutes.
02.21 PM: (Archery) Deepika may have won this match fairly easily but the high wind speed will be bothering her a little. She didn't find the consistency to remain in the inner circles for most of the game. Nevertheless, a good start for the Indian.
02.19 PM: (Archery) And Deepika cruises to the round-of-32! And she finally finds the bull's eye. Scores 27 in the third set to win the match 6-0!
02.17 PM: (Archery) The Bhutanese's archer hit two successive 7s which proved costly for her against Deepika. The heavy wind speed is playing a crucial role as well, as Deepika has failed to find the bull's eye so far. Scores 8-9-9 to take the second set. Leads 4-0.
02.14 PM: (Archery) Deepika fails to hit a 10 in the first set but her scores of 8-9-9 were enough to take a 2-0 lead against Bhutan's Karma. 
02.10 PM: (Archery) Deepika Kumari is now beginning her round-of-64 campaign against Karma from Bhutan.
01.27 PM: (Archery) And that's it. Jadhav loses 0-6. A disappointing 8-8-7 from Jadhav in the final set; the conditions were tough with heavy wind across the field, but Ellison finds two 9s which were enough to seal a place in the pre-quarters. 
Atanu Das (men's individual) and Deepika Kumari (women's individual) are the only Indian archers remaining at the Tokyo Olympics.
01.26 PM: (Archery) Ellison takes the second set after Pravin fumbles for the final arrow. He made a strong start with a 10 and a 9 and would've secured a comeback with another 10, but he fumbles in the end and hits a 7. Loses 26-27 in the second set and Ellison now leads 4-0.
01.24 PM: (Archery) An 8 in the second arrow costs Pravin Jadhav, who loses the first set by only one point. Ellison scores 9-10-9 in three arrows as opposed to 9-8-10 by Jadhav. Ellison leads 2-0.
01.21 PM: (Archery)
Pravin Jadhav and Brady Ellison return to the Yumenoshima Final Field to meet in the round-of-32 match in the individual event.
01.06 PM: Pravin was the top-ranked Indian archer in the ranking rounds which took place on July 23. Today, he continued on his impressive run as he scored consistent 9s and 10s against the world no.2 Bazarzhapov.
He will meet World No.1 Brady Ellison of USA in the round-of-32 at 1:22 PM. Stay tuned for live updates! 
12.52 PM: (Archery)
OFFICIAL: After beating world no.2 Galsan Bazarzhapov of ROC, Pravin Jadhav will take on the world no.1 Brady Ellison in the round-of-32 in men's individual event.
12.38 PM: And just like that, Pravin has knocked out the World No.2, ROC's Galsan Bazarzhapov to book a place in the round-of-32 at the Tokyo Olympics! Bazarzhapov will definitely be disappointed with his performance. Only two 10s in nine arrows for the ROC archer, which included a seven in the first set. 
12.35 PM: (Archery) Easy win for Pravin! A poorer set for Bazarzhapov as he could only score 24. Pravin remains consistent again with 9-9-10 in three arrows, beating the ROC archer 28-24 to comfortably book a place in the second round!
12.34 PM: (Archery) And Pravin takes the second set too! He was on the backfoot with the Bazarzhapov scores two successive 10s, but ther ROC archer fumbles up in the third, hitting a 7. With a 9-9-10, Pravin now leads 4-0.
12.32 PM: (Archery) Pravin Jadhav wins the first set 29-27! He hits a 10-9-10 in three arrows, as opposed to Bazarzhapov's three consecutive 9s.
12.28 PM: (Archery) Pravin Jadhav is taking on Galsan Bazarzhapov (ROC) in the R64 elimination match.
12.05 PM: (Artistic Gymnastics)
USA's Simone Biles has withdrawn from the individual all-around competition, meaning she won't be defending her Olympic title. Biles had earlier pulled out of the team event citing mental health concerns on Tuesday.
More here:
11.35 AM: (Tennis)
There are plenty of heat-related concerns at the tennis courts, meanwhile.
Russian Olympic Committee's Daniil Medvedev took multiple breaks and even told the chair umpire that he 'can die' when asked if he could continue playing. Medvedev, however, entered quarterfinals after beating Fabio Fognini.
However, Paula Badosa of Spain was forced to retire due to extreme heat.
10.45 AM: While there are no medal events for India on Day 5, a number of contenders can take significant steps towards the final round. Deepika Kumari, one of the strongest contenders for a podium finish in archery, will begin her individual campaign later today.
A list of what's remaining for India on Day 5 of Tokyo Olympics:
12.30 PM: Archery: Pravin Jadhav vs Galsan Bazarzhapov (ROC) - R64
2:14 PM: Archery: Deepika Kumari vs Karma (Bhutan) - R64
2:33 PM: Boxing: Pooja Rani vs Ichrak Chaib (Algeria) - R16
10.40 AM: (Boxing) India's Pooja Rani will begin her campaign at the Tokyo Olympics later today, when she faces Algeria's Ichrak Chaib in the women's middleweight category. The match takes place at 2.33 PM.
10:05 AM: (Archery) After PV Sindhu easy win early in the morning, the focus turns on women's World No. 1 recurve archer Deepika Kumari, who will begin her medal run in women's individual category against Bhutan's Karma in the round of 64 at 2:14 PM
Before that, in men's individual rounds, Pravin Jadhav will face R64 elimination match against Russia's Galsan Bazarhapov (under ROC flag) from 12:30 PM.
08:45 AM: (Rowing) Indian rowers Arjun Lal Jat and Arvind Singh failed to qualify for the men's lightweight double sculls final at the Tokyo Olympics after finishing sixth and last in the second semifinal.
08:30 AM: (Archery) Tarundeep Rai is eliminated as he loses 10-9 to Itay Shanny in shoot-off.
08:30 AM: (Archery) Tarundeep Rai's 1/16 Elimination round match against goes down the wire as it is tied 5-5 after 5 sets. The winner will be decided by shoot-off round.
08:24 AM: (Badminton) PV Sindhu beats Cheung Ngan Yi 21-9, 21-16 to top Group J and reach pre-quarterfinals.
08:21 AM: (Badminton) 18-14 Sindhu has figured out Cheung's tactics and now is three points away from sealing pre-quarters spot.
08:20 AM: (Archery) Tarundeep Rai vs Itay Shanny men's individual 1/32 Elimination round match has begin.
08:19 AM: (Badminton) 12-13 Sindhu trails in the second game as Cheung is forcing Sindhu to think out of the box with clever moves.
08:14 AM: (Badminton) 8-8 The second game has been an even battle despite Sindhu taking early lead. Chenung Ngan Yi won't like to go down without a battle.
08:07 AM: (Hockey) FULL TIME! India lose the third consecutive match in Pool A as Great Britain win 4-1.
08:05 AM: (Hockey) India concedes another goal as Britain now leads 4-1.
08:04 AM: (Badminton) Sindhu takes the first set against Cheung Ngan Yi 21-9.
07:59 AM: (Archery) Tarundeep Rai has won his round of 64 match against Ukraine Oleksii Hunbin 6-4 and will face Israel's Itay Shanny in Round of 32 at 8:10 AM.
07:57 AM: (Badminton) Sindhu continues to dictate the play as she leads 11-5 in the first game.
07:56 AM: (Hockey) With seven minutes left in the match, India are finding it hard to find their second goal while trailing 1-3.
07:55 AM: (Badminton) Sindhu builds early gap in the first game at 7-3, so far she has given no width to her opponent; leaving a mental dent on the Honk Kong opponent.
07:48 AM: (Badminton) Winner of the match will qualify for the knockout stages in pre-quarterfinals.
07:48 AM: (Badminton) Sindhu vs Cheung match is all set to start as both the players are warming up.
07:46 AM: (Hockey) Third quarter ends with India chasing to turn down 2-goal deficit in search of their first win at the Olympics.
07:44 AM: (Hockey) India playing with 10 players at the moment after Salima Tete saw a yellow card.
07:43 AM: (Hockey) India are in deeper trouble now as Lily Owsley scores team's third field goal of the day to make it 3-1. India also lost their video referral as they doubted the danger of play leading to the goal but video referee stood by the goal.
07:40 AM: (Archery update) Tarudeep's match will begin soon after the ongoing match between Japan's Hiroki Muto and Itay Shanny ends.
07:37 AM: (Archery) Also in action is India's veteran archer Tarundeep Rai, facing Ukraine's Oleksii Hunbin in round of 64 knock-out clash.
07:33 AM: (Badminton) Meanwhile 6th-seed PV Sindhu vs Ngan Yi Cheung (Hong Kong) Group J match will start soon.
07:32 AM: (Hockey) India exerted pressure with as many as three penalty corners but none were converted by the side, India still trail 1-2.
07:30 AM: (Hockey) Both the teams are playing with a player less after within a space of a minute of third quarter, first Sushila Chanu was shown green card (2 minute suspension) followed by yellow card for GBR's Lily Owsley.
07:12 AM: (Hockey) The second quarter ends with GBR leading 2-1. It's important for India to find a win today as a defeat will severely dent India's chances of qualifying for quarter-finals with top four out of the six-team Pool A.
07:05 AM: (Badminton) We will be soon bringing you the live coverage of PV Sindhu's match against Hong Kong's Ngan Yi Cheung in Group J of women's singles from 7:30 AM.
07:01 AM: The goal was a result of a cheeky penalty corner taken by Gurjit Kaur, directing the ball towards Sharmila, who made no mistake in nudging the ball in from close range.
07:00 AM: GOAL! Sharmila Devi pulls one back for India with two quarters and a half a quarter of the match to play.
06:53 AM: India in deep trouble as Hannah Martin has scored again, this time in the early minutes of the second quarter. 
06:48 AM: The first quarter ends with Hannah Martin making the difference in the opening minute, since then India have found it hard to put GBR goalkeeper under real pressure.
06:44 AM: With just three minutes left in the first quarter, India earn back-to-back penalty corners but were nowhere a threat on both occasions.
06:36 AM: Great Britain are dominating possession at the moment with India maintaining a defensive formation. There have been a couple of chances on the counter for India but they are yet to find any momentum.
06:32 AM: An electrifying start for the GBs, who scored from their first attack of the game at the 57th second with Hannah Martin finding the net. Not what the doctor recommended to Rani Rampal and team.
06:31 AM: Goal! India trail already. 
06:30 AM: Kudos to the Great Britain players for taking a knee before the kick-off in their support to the Black Lives Matter Movement against racism.
06:29 AM: There's a different feel to the Sjoerd Marijne-coached Indian team today as they all seem pumped up while singing the national anthem in unison. Expect some intensity from Rani Rampal and Co. at the beginning of the match as a lot is on stake here.
06:26 AM: Both the teams are out on the field already with Britain's national anthem being played first followed by India.
06:00 AM: Hello and Welcome to Day 5 of India's action at the 2020 Tokyo Olympics. There was resilience on display in hockey, a tactical mind sparkled in the boxing ring but the free fall in the shooting remained perplexing and worrying as India's Olympic campaign oscillated between some celebration and a lot of dejection on day 4 of the competitions.
On Wednesday, the bottom-placed Indian women's hockey team will aim to bounce back after consecutive defeats, when they take on Great Britain in India's first event on Day 5.
Later, the archers will aim to shrug off the disappointment of elimination from the team events and brace for tougher challenges in the individual competitions. PV Sindhu will have her second-round match after an impressive start on Sunday. Here's all you can expect from the Indian contingent on Wednesday, July 28.