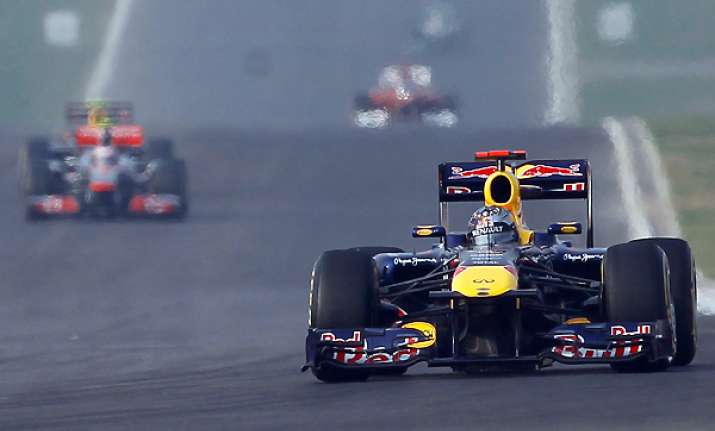 New Delhi, Oct 31: The organizers of the India's first Formula One Grand Prix plan to capitalize on the success of the inaugural race by holding local championships to popularize motor racing in the country.

The track at Buddh International Circuit was praised by officials and drivers after Red Bull's Sebastian Vettel won Sunday's race in front of a huge crowd of more than 90,000 spectators.

"We will start organizing races by February next year in an effort to keep the momentum. We will finalize a calendar by the end of November," Jaypee Group chief executive Sameer Gaur told The Associated Press on Monday. "The FIA has been pleasantly surprised, they are very happy. If you see the garage, the pit lanes, the technical aspects, this circuit is really good.

"After we sort out some technical issues, we will work further on landscaping. We are in touch with FIA officials and are already getting feedback on what can be done to improve the facility."

The Jaypee Group, which has primary business interests in real estate, spent more than $200 million in building the track complex and almost as much in other expenses after being granted the rights to the event for 10 years.

The group is also building a sports city around the Formula One track that will include an international-standard cricket stadium.

"Yes, the cricket stadium is next. But right now we plan to work further on the racing track," Gaur said.

Formula One Chief Executive Bernie Ecclestone has also praised the track, which is located 40 kilometers (25 miles) from New Delhi in the satellite town of Greater Noida.

"India should be very proud that a private enterprise has achieved this," Ecclestone was quoted as saying in Monday's The Times of India. "Everything is super, it just needs a bit of polish. It needs to be tidied up, which does not take time."

Ecclestone said the race had been a success.

"I'd said before the weekend that we needed three things to make this race a success: good crowd, media support and a track that the drivers will enjoy. I think India has delivered on all counts," he said.

Indian cricket star Sachin Tendulkar, an avid racing fan who waved the checkered flag in the race, also praised the organizers.

"Wonderfully organized F1 event by Jaypee. A world class track with excellent facilities for spectators. Truly, a memorable day for all of us," he tweeted.