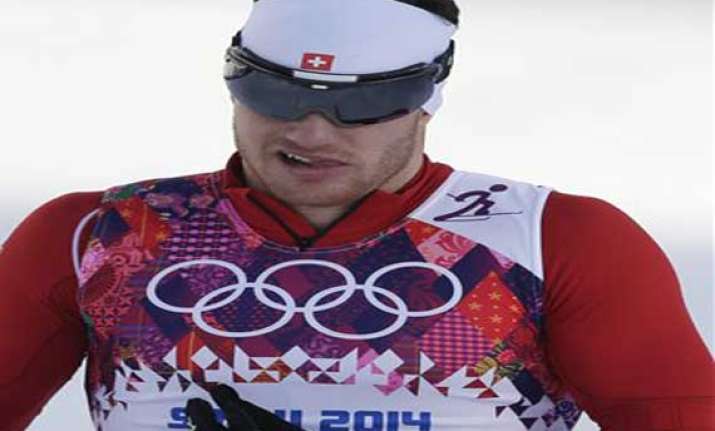 Krasnaya Polyana, Russia: Dario Cologna only finished second the last time he competed in a 15-kilometer classical-style race, less than two weeks ago.
Considering that was his first World Cup race of the season after having ankle surgery in November, and the rate he seems to be improving at, the Swiss cross-country skier could well go one better in the same event at the Sochi Olympics on Friday.   
Cologna is among the favorites again going into the third men's race of these games, having won the opening 30-kilometer skiathlon on Sunday. That victory was a bit of a surprise given his injury-plagued season, but he had shown in that 15K race in Italy on Feb. 1 that he was back to full fitness. Now the only surprising thing would be if the three-time overall World Cup winner isn't up there fighting for the gold.   
Here are five things to know about the men's 15K classical race:   
NO NORTHUG: Petter Northug won four medals in Vancouver four years ago, including two golds, but will have to wait a bit longer for his first podium finish in Sochi. Northug was dropped by Norway for the 15K race after failing to contend for medals in the skiathlon and freestyle sprint, with the coaches saying he'd be better off resting for the coming events.   
NORWAY'S HOPE: In Northug's absence, Martin Johnsrud Sundby represents Norway's best hope for gold. Sundby leads the overall World Cup this season and took bronze in the skiathlon after winning a disputed sprint against Russia's Maxim Vylegzhanin. There will be no sprint this time though, as the 15K is an interval-start race.   
OLSSON RETURNS: Johan Olsson of Sweden established himself as one of the world's top classical-style skiers by winning the 50K race at last year's world championships. However, Olsson hasn't competed in two months because of an illness and injury problems, and his form is unclear ahead of what should be his best chance at an Olympic medal. U.S. skier Kris Freeman still says Olsson should be considered the favorite.   
RUSSIAN REVENGE? Vylegzhanin will be eager to make up for his fourth-place finish in the skiathlon, where Sundby beat him to the bronze by 0.1 seconds. Russia unsuccessfully protested that result, saying Sundby impeded Vylegzhanin in the sprint. Vylegzhanin could again be competing with Sundby for a medal on Friday, as could Alexander Legkov -- the man who beat Cologna in the World Cup race in Italy.   
WARM WEATHER: Temperatures at the cross-country course are expected to reach up to 14 C (57 F); even warmer than at the women's 10K race on Thursday. That kind of heat is almost unheard of at a cross-country race, so expect to see more sleeveless skiers on the course.