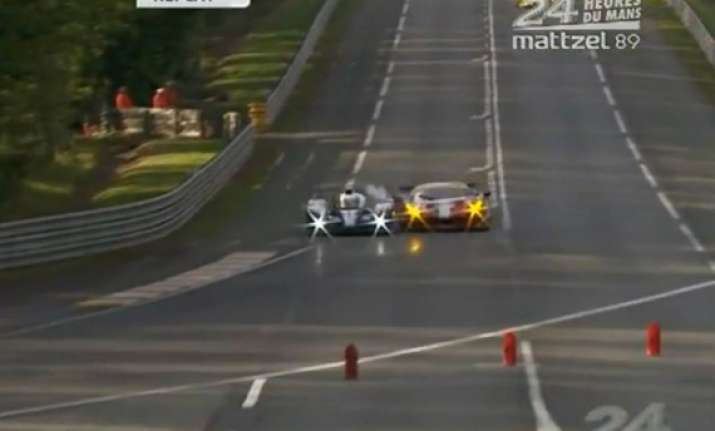 Paris, Jun 17:
British driver Anthony Davidson  broke his back after a spectacular crash in the opening hours of the Le Mans 24 hour race on Saturday.
His Toyota TS030 Hybrid flipped in mid-air before careering into heavily into a barrier yesterday. His team revealed today  that two of vertebrae were broken in the crash.
The 33-year-old driver from Brackley, Northamptonshire, had taken over from Sebastien Buemi at the wheel of Toyota's entry after decent stints from the Swiss driver and Stephane Sarrazin had left the team fighting for the lead.
But early into his spell the Brit was clipped by the LMPGTE Ferrari driven by Italy's Piergiuseppe Perazzini and both cars went out of control. Perazzini walked away from the accident but Davidson was treated by medical staff at the scene.
The race continued behind the safety car for over 30 minutes as marshals reconstructed the tyre wall decimated by Davidson's car.
Ex-Formula One racer Davidson was taken to a local hospital and the team confirmed at the time that he was suffering from shock and complaining of back pains.
It was later revealed he had suffered breaks to his T11 and T12 vertebrae, with Toyota saying: 'Those injuries are expected to heal fully in approximately three months and he will remain in hospital until Monday.'
Davidson took to Twitter overnight whilst in hospital with the first update on his back injury.
'Well that was a big one! Lying in a French hospital with a broken back wasn't what I had in mind at this stage in the race...' he wrote.
'..Gutted for the @Toyota-Hybrid team who did an amazing job all week.'
Sarrazin sent his best wishes to co-driver Davidson and was happy with the overall performance of both cars.
'Firstly I am relieved that Anthony got out of such an accident and I hope he gets better quickly,' he said.
'Regarding the race, the car was competitive and after being cautious at the beginning, we were really on the pace. We were in a very good rhythm, with both cars in top three. For a car that has made is first laps only a few months ago, it is amazing to be at this level at Le Mans.'
The sister Toyota retired after 11 hours after an eventful race which saw the team of Alexander Wurz, Nicolas Lapierre and Kazuki Nakajima hold the lead for a short period of time.
Davidson also works as an analyst for Sky Sports and a commentator for BBC Radio 5 Live. His brother Andrew appeared in the first series of Big Brother in the UK.
Le Mans is the world's oldest active sports car endurance race, which has been held annually since 1923 near the town of Le Mans, France.
It runs on the Circuit de la Sarthe, a circuit containing a mix of closed public roads and a specialist motor racing circuit normally used for testing.