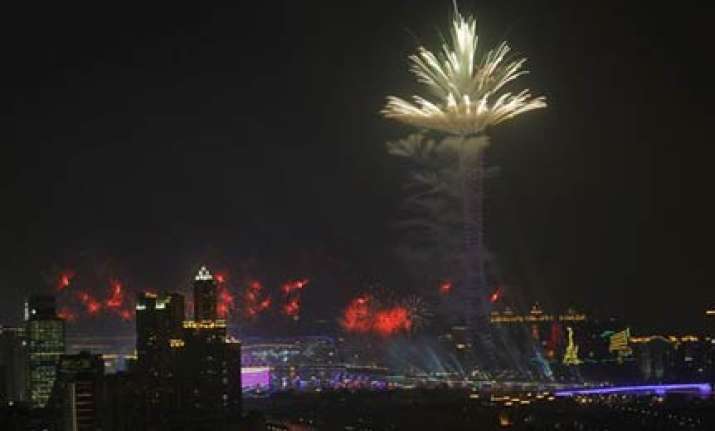 Guangzhou, Nov 12 (PTI) Two years after the spectacular success of Beijing Olympics, China dazzled the world once again by unveiling the 16th Asian Games with a spell-binding opening ceremony in which water was the overwhelming theme and athletes were ushered in a unique boat parade on Pearl River.
The theme was water and the main part of the ceremony was held at Hai Xinsha, an island located on China's third longest river, which is the life-giver to the southern part of the world's most populous nation.
The four-and-a-half-hour ceremony started with trademark fireworks and the 37,000 capacity crowd was up on its feet when 1320 artists from the city's oldest kung fu school descended with giant LED screens in the backdrop.
The mesmerisingly choreographed act had the artists performing breathtaking acrobatics while being several feet above the ground.
 The LED screens flashed the cityscapes and the artists formed formations to look like eagles flying through the sky.
The ceremony was unique in more ways than one as it was not held in the main stadium of any multi-discipline sports spectacle as is the custom.
The Hainixia island, which had an arena specifically built for the purpose, was the venue and it sat on a river that snakes through this sprawling city and at 2300 kms is the third longest in the country.
 With the performing area composed of a fixed stage that could insert and release water and which could be elevated in the water, the stage was set for an amazing display of colour and dazzle that took the spectators' breath away in the 30,000-seater arena which was completed only two months ago.
 Circular water channel and four groups of sail-shaped LED screens which were made up of world's largest hanging LED screens -- 83m in height and 36m in width.
 With the tall, well-lit skyscrapers of the city acting as the backdrop, Guangzhou gave a rousing welcome to the athletes who would strive for medals from tomorrow.
The decorated boats, 45 in all and representing all the countries and regions taking part in the Games, set sail to the song "Happy Song All The Way along the River" with performers lining up both the banks cheering them amid drum beats and local music.
 The 75-minute long athletes and officials' boat ride started at the White Swan Bay and ended at the Haixinsha Island with the floats sporting various colours.