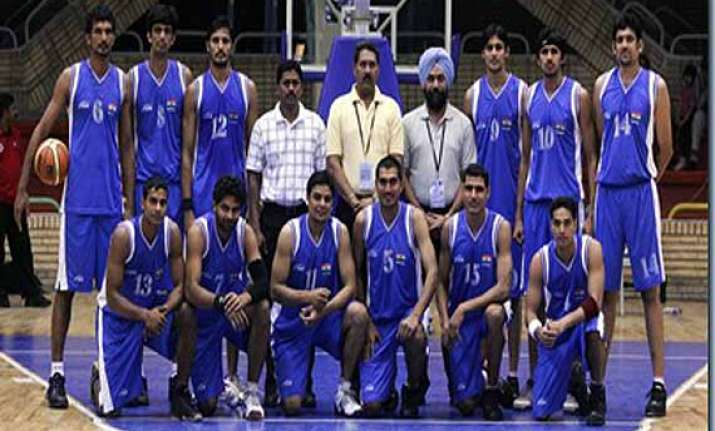 Mumbai:  Indian men have been grouped with Palestine, Saudi Arabia and Kazakhstan in the preliminary phase of the basketball competition in next month's 17th Asian Games at Incheon, South Korea.
The women, on the other hand, have secured a bye into the quarter finals, according to the available draw for the competition. The men hoopsters, ranked 61st in the world and 11th in Asia, are to open their Group B campaign against Palestine on September 20, the day after the Games open, at the Hwaseong Sports Complex Gymnasium.     
Their remaining games against Saudi Arabia, ranked nine places below them in the continent, and Kazakhstan - ranked one rung above India in Asia - are scheduled on September 21 and 22.     
The women, graded 40th in the world and 5th in the continent, are to start their campaign with a direct quarter final fight against higher ranked Japan (17th in world and 3rd in Asia) on September 28 for a berth in the semis.     
Both Indian men and women had a miserable outing four years ago in the 16th Games at Guangzhou, China. The men had a sole win over lowly Afghanistan in the
preliminary round before losing all five games - against Qatar, Chinese Taipei, Iran, Philippines and Japan - in the next stage round robin to identify the quarter finalists.     
The women fared no better, losing all three preliminary phase group games against China, South Korea and Thailand to end up 7th and last, a rung below even tiny South Asian rivals Maldives.     
The Indian men's outfit has shown some progress in the FIBA Asian Championships, where its' best finish was a fourth place in 1975. The team's worst finish - 15th - occurred in 2007.     
They ended up 13th from 16 teams in 2009, 14th out of 16 teams in 2011 and 11th from 15 outfits last year when the team was coached by incumbent Scott Flemming.     
There are 16 teams in fray in men's section in Incheon and 11 in the women's competition.