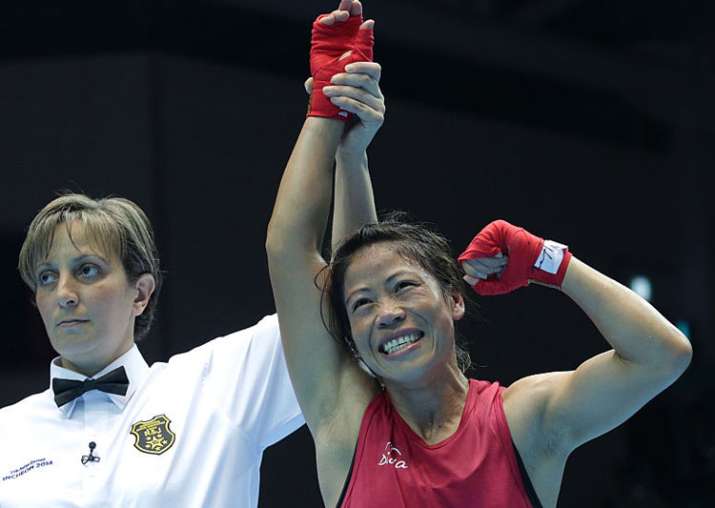 Five-time world champion Mary Kom on Monday quoted that 2018 Commonwealth Games is her priority at the moment and she will leave no stone unturned to win a medal in the tournament. On being questioned about her preparation for the coveted tournament, the ace India pugilist said that the training sessions have been going really well and that the national coaches are helping her a lot. The 2018 Commonwealth Games will be held in Gold Coast, Australia in the month of April next year. 
"My preparation is going very good. All the national coaches are helping me. I think my preparation is really good. Commonwealth Games is my priority and I will leave no stone unturned," Mary told in an interview to ANI.
However, the London Games bronze-medallist stressed the fact that the format has changed a lot and lot of new categories have been emerged lately. 
When talking about 2020 Olympics in Tokyo, the 34-year-old said that overseas boxers are smarter and faster and, therefore, they also need to act smart.
She also welcomed the appointment of Rajyavardhan Singh Rathore as the Sports Minister, saying that the Olympic silver-medallist is the right person for the role and that he would surely do everything possible to guide Indian sports to greater heights.
"I was so happy when he joined politics. We wanted him as a sports minister but they (government) were not giving him the role. Now, he has come and I believe he will do everything that is needed. The right person is there (sports minister)," Mary said.
Earlier, Rajyavardhan had announced that 152 Indian athletes preparing for the 2020 Tokyo Olympics, 2018 Commonwealth Games and 2018 Asian Games will get a pocket allowance of Rs. 50, 000 per month.
In a major cabinet reshuffle that took place earlier this month, Rathore replaced Vijay Goel, who has been made the Minister of State for Parliamentary Affairs.
(With Agency Inputs)