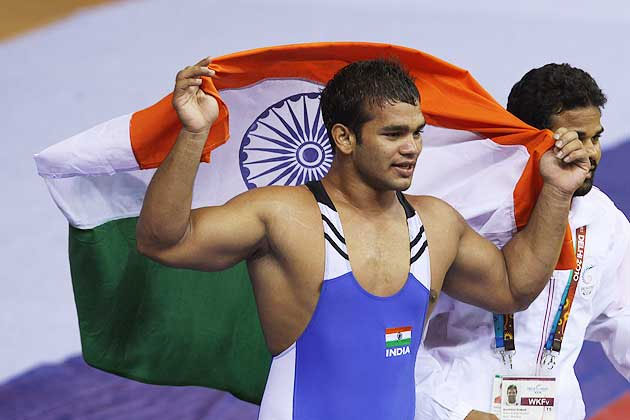 India's hope in Rio Olympics' wrestling competition Narsingh Yadav has been virtually ruled out of the Games after failing in a dope test National Anti Doping Agency (NADA).
National Anti-Doping Director General Navin Agarwal confirmed that Narsingh's 'B' sample also tested positive for a banned substance and he appeared before a NADA disciplinary panel yesterday. Sources that he had returned positive for methandienone -- a banned anabolic steroid.
"Yes, he (Narsingh) tested positive for a banned steroid. His B sample was also found to be positive. Narsingh was personally present when his B sample was opened," the NADA DG told PTI.
"He appeared before a disciplinary panel yesterday. The panel sought for more reports regarding the matter. We will proceed further and I am hoping that the panel will proceed quickly. Till then we will have to wait," he added.
Asked if Narsingh will miss the Rio Olympics, Agarwal said, "It is too early to comment in that regard. We will try to complete the whole thing quickly. I cannot speculate on that."
Yadav has claimed innocence, saying that the scandal is a conspiracy against him.
"This is a conspiracy against me. I have never taken any banned substance," said Narsingh.
The Wrestling Federation of India (WFI) has also cried foul, claiming that Narsingh has a clean history and it seems to be a sabotage.
"It is a sabotage, foul play. Narsingh has a very clean history. It's clearly a conspiracy against him," WFI sources told PTI.
The National Anti-Doping Agency (NADA) conducted a random dope test on Yadav on July 5 at the Sports Authority of India's (SAI) regional centre in Sonepat which he failed to qualify.
According to a report by The Tribune, the report of his 'A' sample test came out positive, and he was called for his 'B' sample test, which also turned out positive.
NADA sent its final report to the Wrestling Federation of India (WFI) last Saturday which in turn has been sent to the Sports Ministry.
The Sports Ministry also issued a statement to confirm a failed dope test by a wrestler but desisted from giving out Narsingh's name.
"One wrestler has been detected by National Anti-Doping Agency (NADA) as dope positive. An Anti-Doping Disciplinary Panel(ADDP) has been constituted by NADA under its rules for hearing the case. Its first hearing was held yesterday in which the wrestler was given an opportunity to defend himself," the Ministry said.
Narsingh had secured the Olympic quota place for India last year at the World Championship in Las Vegas after winning a bronze medal in the 74 kg category.
Another wrestler Sushil Kumar, who had won a bronze medal in 2008 Beijing Olympics and followed it up with a silver in 2012 London Games, had challenged Narsingh Yadav's inclusion into the Rio team.
Sushil had moved to the Delhi High Court, seeking a trial to participate in the 74 kg weight category at the Rio Games in August. The plea was rejected by the court saying that the WFI conducted a transparent process of selection.