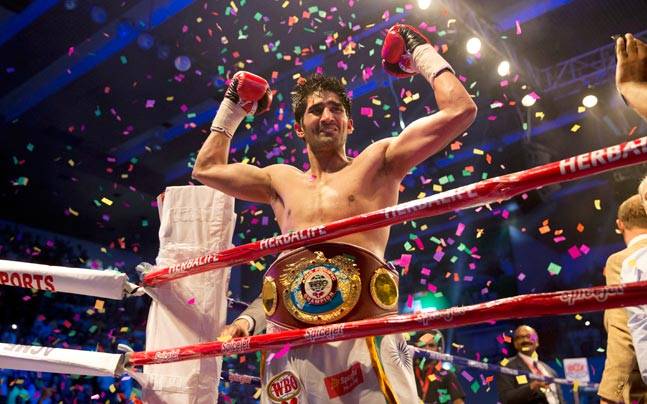 New Delhi: There are interesting times in store for Indian fans of boxing, particularly those of the WBO Asia Pacific champion Vijender Singh. With rumours of a possible bout between British boxing star Amir Khan and Singh doing rounds following the latter's recent Asian victory, Khan has now come out with a warning to the Indian boxing star through a tweet. 
Congratulating Vijender for winning the WBO Asia Pacific Super Middleweight title on Saturday, Khan reacted to Vijender and his promoter Queensberry Promotions' hints of a possible face off.
"Congratulations to @boxervijender on the win. Careful what you wish for kid!," tweeted Khan, a former Olympic silver-medallist and WBA lightweight world champion.
Congratulations to @boxervijender on the win. Careful what you wish for kid! https://t.co/HUwvjMeQCL

— Amir Khan (@amirkingkhan) July 18, 2016
The 30-year-old Indian boxer clinched his seventh straight win and the Super Middleweight title by outlasting former WBC European champion Kerry Hope in a 10-round contest.
"Mine and Amir's weight categories are different. So, in case he increases his weight or I decrease mine then we can work it out. We are thinking about it, so let's see. I hope that when that big fight happens, it happens in India only," said Vijender.
Khan, who is currently in Dubai, recently tried himself in the middleweight by taking on world champion Saul Canelo Alvarez. However, it ended in disaster for him when he was knocked out in the sixth round.
The Pakistan-origin boxer had expressed a desire to take on Vijender in India before the showdown with Alvarez.
(With PTI inputs)