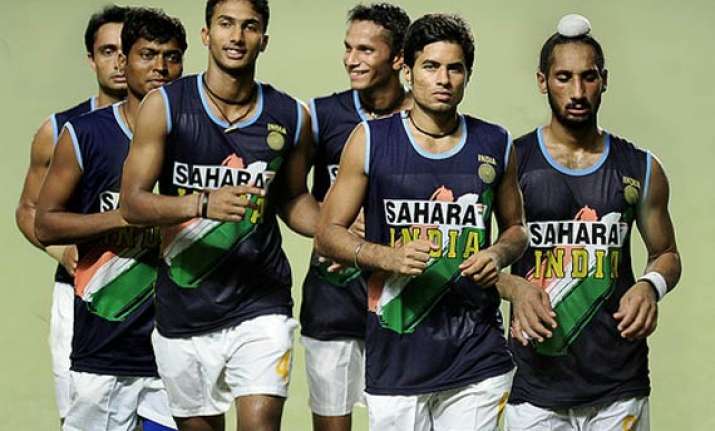 Johannesburg, Nov 26: India conceded a penultimate minute goal on a penalty corner to allow Belgium secure a 3-3 draw in their opening outing at the Champions Challenge hockey tournament here today.

In an evenly matched Pool A encounter where India sprung to life with three second-half goals in the space of 12 minutes but twice allowed the Belgians to draw level after falling behind.

India's goals came from Rupinder Pal Singh (45th minute), Chingelnsana Singh (48th) and Vokkaliga Raghunath (57th) as they had a good chance to start with a victory until a 69th minute penalty corner rebound by Xavier Rekinger helped Belgium share points.

Belgium's earlier goals were scored by Alexandre de Paeuw (31st minute) and Tom Boon (55th).

Belgium, among the few teams in this competition who have already secured their passage to the London Olympics, are one of the strongest sides here.

Belgium opened the scoring in the 31st minute through Alexandre de Paeuw, who capitalised on a diagonal ball and sent in a reverse hit with only goalkeeper Bharat Chetri to beat, giving the Belgians a 1-0 lead at half-time.

After Rupinder made no impression with the first penalty corner in the 44th minute, his flick in a goalmouth scrimmage in a minute later helped India equalise.

India were up 2-1 in the 48th minute later when Chingelnsana was rewarded for chasing a loose ball that led to a defensive lapse and the shot went off his stick past bewildered goalkeeper David van Rysseberghe.

Belgium restored parity through a 55th minute penalty corner strike by Tom Boon but India were again ahead in the 57th minute as Raghunath sent a grounder drag-flick into the boards.

Pressing hard, the Belgians benefitted from some display of nerves by the Indian defence, allowing them two penalty corners in the last two minutes.

The third Belgian goal came when Xavier Rekinger's reverse drive wen in after goalkeeper Chetri had blocked two previous shots on the penalty corner.