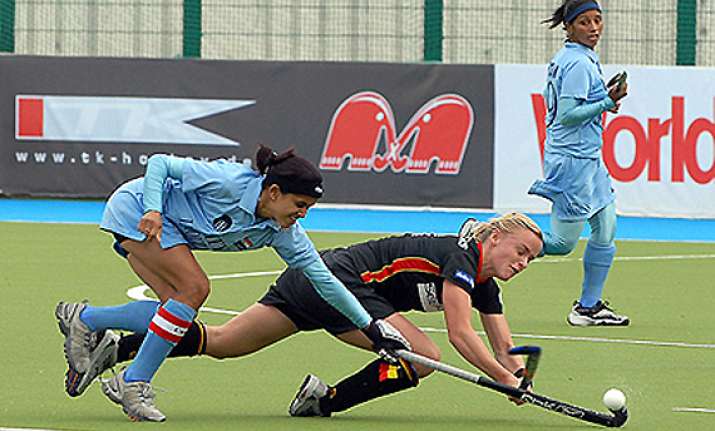 New Delhi, Feb 18: A second half goal being disallowed, Indian women were held to a surprise 1-1 draw by a lowly Ukraine in their opening match of London Olympics hockey qualifiers at the Dhyan Chand National Stadium here today.

Higher-ranked India were rusty in the first half and conceded the early lead to Ukraine in the 26th minute when Maryna Vynohradova found the goal on a direct hit. Soundarya Yendala drew parity for India combining with Kirandeep Kaur in the 42nd minute.

In the 55th minute, the Indian camp burst into celebration when Anuradha Devi Thokchom, standing at the goal post, seemed to have nudged the ball home after Poonam Rani's shot from inside the 'D' went high towards the left corner of the nettings after deflection from Ukraine goalkeeper.

The umpire signalled a legitimate goal but technical officials later ruled it was not a goal apparently because of Anuradha's high stick position, much to the disappointment of the Indians.

Ukraine, who had to battle extreme weather conditions in the run-up to the tournament, gave a good account of themselves and kept the Indians, ranked 13th in the world against 26th of their opponents, on the tenterhooks for most part of the match.

India found the going tough and whatever chances they earned, they squandered them as the Ukraine midfield and defence were always up to the task.

India were aggressive at the start with Soundarya Yendala and Ritu Rani making inroads in the rival defence in the first five minutes but an alert Ukraine defence thwarted the attempts.