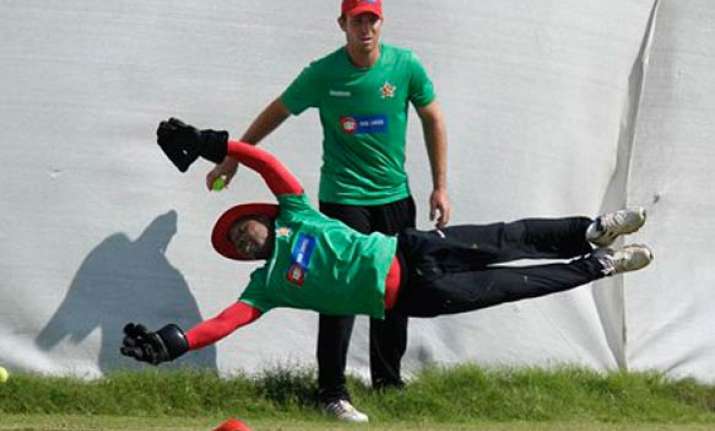 Ahmedabad, Feb 19: The Zimbabwe team which is going to play their first World Cup match against defending champions Australia here on Monday is all set to take on the Kangaroos.
"It is going to be tough to play the first match of the World Cup before the defending champions Australia. But I think the guys are prepared," the Zimbabwe leg spinner Graeme Cremer said.
When asked about preparing to bowl on spinning tracks of the sub-continent, Cremer said that they have watched a lot of Indian and Bangladeshi spinners.
"We have watched Harbhajan (Singh) bowl. At what speed and what length he bowls. It is good for us. And on the last tour to Bangladesh (in December 2010) we saw how our spinners bowled and their spinners, and the tracks there are pretty similar to here," the 24-year-old with 47 One-day wickets said.
"Spin is one of our strengths with which we could take on the Australians, which is a tough team. We ought to restrict them to a low score," the promising off spinner Prosper Utseya said.
When asked about how they would take on the Aussie pacers, Prosper said, "If we are playing on merits, it does not matter who is behind the ball. Play it as you see it and play as positive as you can."
One of the prolific players of Zimbabwe cricket and the second highest run scorer for the country, Grant Flower, who is presently the batting coach of the team said that his boys have learnt a lot from their Bangladesh tour in December last year where they lost the ODI series 1-3.
"We have learnt from our mistakes during Bangladesh tour. We are a very well organised side now. We got some things wrong there by not playing the left arm spinner well. But the guys have gone back and work hard on the game. I think they are aware of what is needed in the subcontinent," he said.
Flower said that his team has played both India and Bangladesh quite a few times and that experience could help them.
"Bangladesh was tough to beat at home especially with their spinner. But it was good to get a feel of the wicket. I think that my batting order is quite safe now," he added.
The veteran player who has scored 6571 ODI runs, said that his team's trait was spin and they hope to bowl in the right areas to build the pressure on Aussies.
"We have lot of good players of spin in the Australian side and the other sides. There are no obvious weaknesses, otherwise they would not be playing at international level. Our main trait is spin. Hopefully we can get into the right areas and they might succumb to pressure," Flower said.
Flower's advise to his batsmen is, "Assess the conditions and adjust to it as quickly as possible. Keep a clear head as there is lot of pressure in front of the Indian crowd, and try and enjoy the moment. Do not put too much pressure on one's own self."
He said that his team have worked and practiced to face the pace attack of the Australians.
"Australia has quick bowler which they would be using against us and there ought to be bowling short. Our guys are aware of that and they have practiced for that. We will have to see on the day if we have prepared properly," he added.
When asked about ICC contemplating to play only 10 teams from the next world cup, Flower said, "I don't agree with that. I think that those nations (like Netherlands, Canada and Ireland) need the exposure to develop."
"But there are pros and cons to the ICC's decision. I should not say too much about it. But if that does happens, then I see those teams going backward and not forward," he said.
Talking about the changes in Zimbabwe cricket, Flower said that it has come out of its troubles and now things were moving in the right direction.
"Good overseas coaches who have come and helped raise the standards and worked out the new franchisee system. Lot of good thing are in place. Alister Campbell had come as a selector," Flower said. PTI