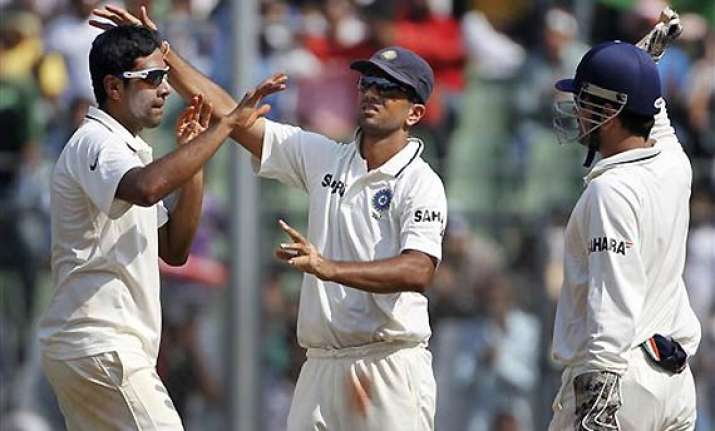 Mumbai, Nov 26: India captain Mahendra Singh Dhoni on Saturday termed the fifth day's play in the third Test against the West Indies as "superb" but said he wants to see tracks offering turn from the opening day of a match rather than final day.

"It was a superb final day and again it was proved that it's not yours until it's in your kitty. We lost wickets at the wrong time," Dhoni said after an exciting final day where his team, chasing 243 runs in the second innings, finished at 242 for nine to see the match end in a thrilling draw.

Asked whether he expected to take eight wickets in the first session on Saturday, the India skipper said, "Last time when we played at the CCI (Brabourne Stadium), the ball turned less as the match progressed.

"This time we wanted to start safely and didn't want to concede too many runs. Luckily we got wickets and didn't concede runs. So we could put some fielders in catching position. Having said that I would expect tracks here to start offering turn from the first day evening rather waiting till the fifth day."

Dhoni, who has been rested for the five-match ODI series against the Caribbean side starting October 29 at Cuttack, termed the break as a "much needed one."

"More than a physical break, (I) needed a mental break," he said.

Ravichandran Ashwin, who won the man-of-the-match as well as man-of-the-series award for his brilliant all-round show, said his plan in the final over did not work.

"I wanted to squeeze a few boundaries when the field came up but unfortunately couldn't get. Off the last two deliveries, the plan was to defend the first one and go after the last ball. The plan didn't work."

The burly Tamil Nadu off-spinner admitted that he never thought that it would get this close.

"As the ball got old, it bounced and stopped. Ojha really bowled well and built the pressure. I chipped in at the back end as well."

Questioned about a dream start, Ashwin stated, "I would be taking confidence from this series but would have to really work hard on different facets of my game."

West Indies captain Darren Sammy said that the final day' play was a "great advertisement for Test cricket. We have watched the South Africa versus Australia Test series recently and now we have had this Test match."

Sammy said that he was desperate for a "win or a tie". The skipper praised his bowlers for putting in a lot of effort. "Bishoo bowled more than 50 overs on one leg. He showed that he is a tough character. Marlon, Ravi also put in a lot of effort. In the end, we had a chance of winning."

Sammy feels that as a bowling unit they have improved consistently and the testimony to that getting first innings lead twice during the series.

"Our batsmen have also done well. Bravo (Darren), Kraig (Brathwaite) but we need to be more consistent. We had one bad session in the series that took the game away from us."