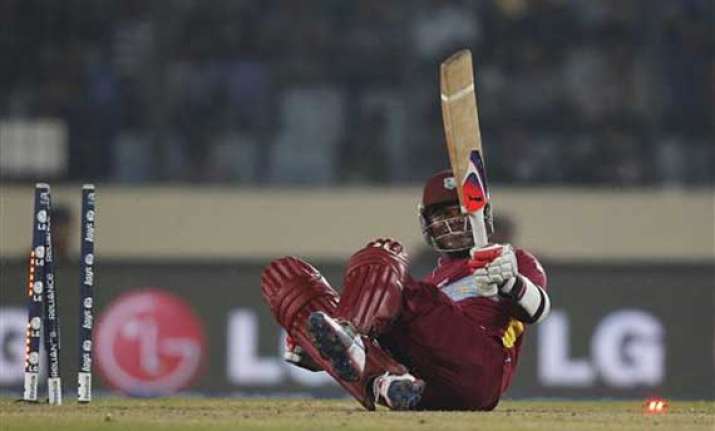 MIRPUR, Bangladesh: Scoreboard in the World Twenty20 group 2 game between India and the West Indies at Sher-e-Bangla Stadium on Sunday:
West Indies
   Dwayne Smith c and b Ashwin 11  
Chris Gayle
run out 34  
Marlon Samuels
st Dhoni b Mishra 18
   Lendl Simmons c Dhawan b Jadeja 27  
Dwayne Bravo
lbw b Mishra 0
   Darren Sammy c Sharma b Jadeja 11
   Andre Rusell c Koli b Jadeja 7  
Sunil Narine
not out 7
   Denesh Ramdin not out 0
   Extras: (1lb, 12w, 1nb) 14
   TOTAL: (for seven wickets) 129
   Overs: 20  
Fall of wickets: 1-38, 2-62, 3-74, 4-74, 5-97, 6-108, 7-121.  
Did not bat: Samuel Badree, Krishmar Santokie.  
Bowling:
Bhuvneshwar Kumar
3-0-3-0 (1w), Mohammad Shami 3-0-27-0 (5w), Ravichandran Ashwin 4-0-24-1 (1w), Amit Mishra 4-0-18-2 (1w),
Suresh Raina
2-0-8-0 (2w),
Ravindra Jadeja
4-0-48-3 (2w, 1nb).
India
Rohit Sharma
not out 62  
Shikhar Dhawan
lbw b Badree 0  
Virat Kohli
b Russell 54
   Yuvraj Singh c Gayle b Samuels 10
   Suresh Raina not out 1
   Extras: (2w, 1nb) 3
   TOTAL: (for three wickets) 130 
Overs: 19.4  
Fall of wickets: 1-1, 2-107, 3-129.  
Did not bat: Mahendra Singh Dhoni, Ravichandran Ashwin, Ravindra Jadeja, Amit Mishra, Bhuvneshwar Kumar,
Mohammed Shami
. 
 Bowling: Samuel Badree 4-0-28-1, Krishmar Santokie 4-0-27-0, Sunil Narine 4-0-20-0 (1nb, 1w), Dwayne Bravo 1-0-12-0, Darren Sammy 1-0-9-0, Marlon Samuels 3.4.-0-22-1, Andre Russell 2-0-12-1 (w1)  
Result: India won by seven wickets  
Toss: India