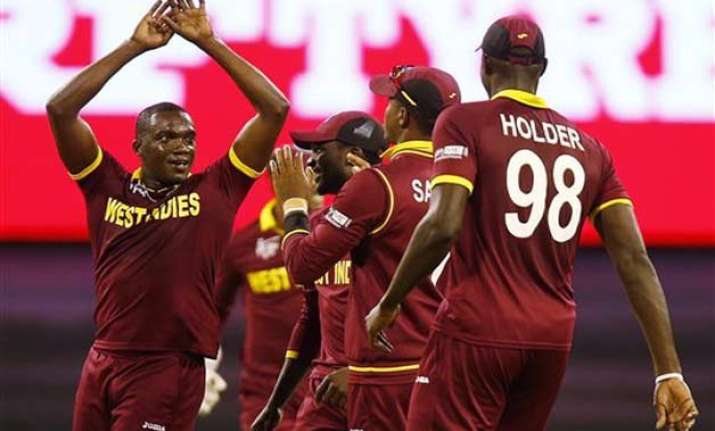 Napier, New Zealand: The two-time champion West Indies will have to overcome tempestuous weather and their own turbulent form to beat the United Arab Emirates on Sunday if they are to advance to the quarterfinals of the Cricket World Cup.
The West Indies must win their final match in Pool B at McLean Park to keep their chances of qualifying alive, then watch the match between Pakistan and Ireland in Adelaide later in the day to see if their efforts have been enough.
The weather may be a greater threat to their quarterfinal prospects than the UAE squad, which is without a win from five games. Tropical Cycling Pam is bearing down on New Zealand and rain is forecast on Sunday, threatening a washout which would leave the Windies one point outside the top four in Pool B.
"Obviously we just need to win this game," West Indies captain Jason Holder said. "The weather is beyond our control and we need to control what we can control, that's the game.
Holder said key batsman Chris Gayle, who has the tournament's top score of 215 but has been troubled this week by a back injury, would be fit to play Sunday and the West Indies will be at full strength.
The young captain, whose leadership has been tested by his team's fluctuating form, said the do-or-die contest in the West Indies' final pool match was not ideal, but the team could build confidence with a commanding win.
"Ideally I think any team would have liked to have qualified by now but that's not the case for us," Holder said. "We've been a little bit up and down at the tournament.
"Having said that, I have full confidence in the guys being able to come out tomorrow and produce what is needed."
After a loss to Ireland in their first match at the World Cup, the Windies got two impressive wins over Pakistan and Zimbabwe, then faltered badly by conceding 408-5 and losing to South Africa by 257 runs. The team also had a four-wicket loss to India.
"I can't really look back and say we've been horrible here or horrible there," Holder said. "But what is important is that we forget about the past, learn from it and focus all of our energies into this game tomorrow."
It will help the Windies' chances of qualifying if the squad can win quickly Sunday and improve its net run-rate.
"Obviously, it's ideal that we wrap it up as quickly as possible, but we still have to play the cricket and to win on merit is the best way to do it," Holder said.
The United Arab Emirates will play its final match of the tournament Sunday, having accumulated a great deal of experience playing the sport's top-ranked sides. Captain Mohammad Tauqir said his players had prepared well and were positive they could end the tournament on a high.
"The West Indies are a very unpredictable side and they heavily rely on Chris Gayle so we can see some opportunities playing against them tomorrow, but we need to bowl well, we need field well," he said. "They are a good side but we would like to see an unpredictable West Indies side tomorrow."