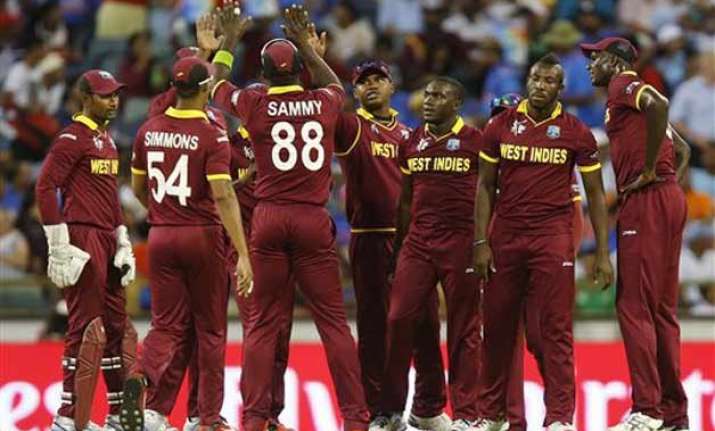 The West Indies is anxiously watching weather forecasts as it prepares for a pivotal Cricket World Cup match against the United Arab Emirates on Sunday.
Tropical Cyclone Pam, currently a category five superstorm, is bearing down on New Zealand's east coast, bringing gale force winds and rain, but is not expected to make landfall before Monday. The forecast for Napier on Sunday is for cloudy weather and possible showers, sending a wave of apprehension through the West Indies camp as it needs a win from the last pool match to make the quarterfinals.
"We have to play the game to give ourselves a chance, so we want sunshine," West Indies manager Richie Richardson said. "We need two points badly and we need it big."
The West Indies has four points from two wins, and lies in fifth place in Pool B, two points behind Pakistan and Ireland, who will meet in the 42nd and final match of the pool rounds in Adelaide later Sunday. The West Indies has the best run-rate of the three teams still in contention for fourth place, and will advance with a win over UAE, at the expense of the loser of the Pakistan-Ireland match.
But it would take only a point from a washed-out match on Sunday, and that would leave it short of the quarterfinals, ensuring both Pakistan and Ireland advance.
Richardson, relying on the power of positive thinking, said "It'll be fine on Sunday." He repeated the unanimous belief of the West Indies players that, despite fluctuating form in pool play, they will be a force to be reckoned with in the knockout rounds.
"We can beat anybody in this competition, but I've said at the start of the tournament that I hope we don't peak too early," Richardson said. "We still have a sniff, but we need to back ourselves.
"We know that, given a chance, we can beat anybody. Once we get past this hurdle of UAE, then anything is possible."
The West Indies had some good news on Thursday as leading batsman Chris Gayle showed signs of recovery from a sore back. Gayle was unable to train this week, but was ready to train on Thursday before showers curtailed a net session.
Richardson said Gayle was "in good spirits" and "has no problems."
"He's like every one of us so, from time to time, he has niggles."