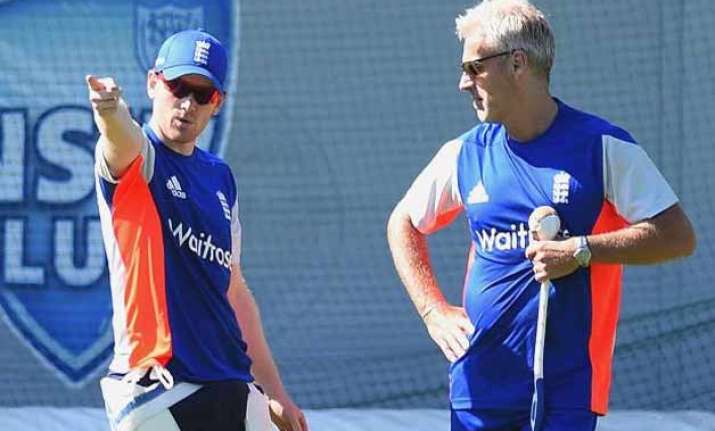 Adelaide, Australia: As England prepares to head home early from the World Cup to a disappointed public and angry critics, captain Eoin Morgan and coach Peter Moores may be each other's only fans.
England slumped to its fourth defeat of the World Cup with a 15-run loss to Bangladesh on Monday leaving it out of quarterfinals contention with a pool match still to play.
Morgan was surprised by England's lack of competitiveness at the World Cup and the manner of its exit.
"Ultimately it comes down to the way we played and performed, and today was another example of us not performing or putting together a game of cricket," he said.
"(I'm) extremely disappointed because within the group there was a lot of belief and expectation to go further than this. I think it's more surprise than anything else."
Morgan said he still wants to play one-day cricket and has enjoyed being England captain, but whether he retains the job is another matter.
Moores, in his second stint as coach and presiding over a second World Cup disappointment for England, "desperately" wants to stay in charge.
"I said yesterday I'm here to try and make a difference," he said. "Certainly on a day like today you look at it and you know we have a lot of work to do in one-day cricket. ... We haven't played well enough in this tournament all the way through, and that's fundamentally something we'll have to look at."
Moores stands by his decision to replace veteran Alastair Cook with Morgan as captain for the tournament.
"I think Eoin is a fine one-day cricketer," he said. "I think he's had a tough start as a captain, but I think he's got real potential as a captain.
"I'm not going to go on about individual things that have gone over the last five to six months of 'could we have done this and could we have done that?' We'll look at that later, but ultimately it is going to be about making decisions of how we're moving forward and what we're going to do."
Morgan, while criticizing his team's performance, had only praise for Moores.
"The captaincy has been something I've enjoyed and working with Peter has been brilliant," he said. "I've learned a lot from him and a lot about myself working with the team."
Morgan's form has been of concern all tournament. The usually reliable batsman was out for a duck Monday, his second of a World Cup in which he has failed to better 46 in five innings.
"My form hasn't been great since the end of our summer," he said. "I thought I turned a corner when we touched down here. I put in a reasonably good performance, but since then I've struggled — for a number of reasons, not just one.
"Today I hit a ball and another couple of yards either side it was a four or a six."
While acknowledging England was a long way behind the top one-day nations, Moores has hopes of a rapid learning catch up for the team.
"Maybe not as long as some people think because we've seen one-day sides emerge quite quickly within 15 to 18 months," he said.
"All the players who have been through this tournament now, the young players who have been through the tournament, they've learnt some very tough lessons and we've seen some sides play at the top of their game. So we know what the benchmark is."