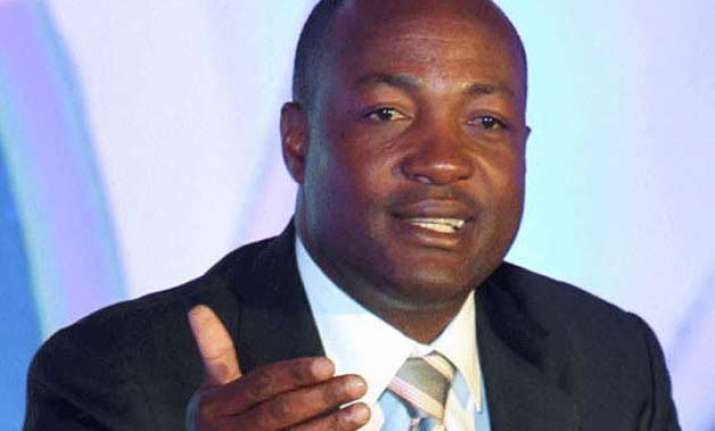 New Delhi: West Indies batting legend Brian Lara is mighty impressed with India's "allround" showing in their first two cricket World Cup matches and feels Mahendra Singh Dhoni's men need to keep up their good work in all three departments of the game if they intend to defend the title.
India defeated arch-rivals Pakistan by 76 runs in their tournament opener before registering an emphatic 130-win over tournament favourites South Africa in their second outing to be atop Group B at the moment.
And like others, Lara too feels India in all likelihood will go as table toppers into the next round.
"Most definitely (India likely to top Group B). India is playing great cricket. The combination of their efforts on the field, with the bat and the ball. Somewhere down the line you find an Indian team suffering in one discipline of the game but right now their batting is great, their bowlers are doing what is necessary to win the games and the Indian fielding over the last few years has also improved, they are now on a different level.
"They playing very good cricket under the leadership of captain (Mahendra Singh) Dhoni. Their allround game is what is impressive and that's what they need to keep doing to win the World Cup," Lara told NDTV.
Lara was of the view India hold a good stead in the ongoing World Cup jointly hosted by Australia and New Zealand as they now are better equipped to tackle the tough overseas conditions.
He also credited cricketing icon Sachin Tendulkar, who has played record six World Cups, for showing the current lot of Indian cricketers how to fight and score runs on tough conditions.
"In these conditions India many many years ago had problems. But their cricketers have grown out of that and I believe that's simply because of what Sachin Tendulkar has done to Indian cricket in terms of showing the fight and strength needed to play on any surface.
"The players are now following in his footsteps. The likes of (Ajinkya) Rahane, (Shikhar) Dhawan, (Virat) Kohli and skipper Dhoni all these guys are now accustomed to play in these tough conditions, bouncy pitches and I expect the Indian team to continue the way they are playing at present," Lara said.